Tesco Review and Cost-Cutting to Hit 9,000 Workers
(Bloomberg) -- Tesco Plc will cut as many as 9,000 jobs as the U.K.'s biggest retailer steps up its response to discounters, the rise of online shopping and the threat of a powerful new rival.
The supermarket operator said it may redeploy as many as half of the affected workers as it closes some fresh-food counters that cost-conscious consumers have been spurning. The shares fell 1.7 percent on Monday in London.
Tesco's latest moves step up the pace of cost reductions under Chief Executive Officer Dave Lewis, who has pared costs aggressively since taking over in 2014 in the wake of an accounting scandal. While Tesco has already cut tens of thousands of jobs, bringing its workforce to around 300,000, the latest reductions are smaller than U.K. media reports had suggested over the weekend.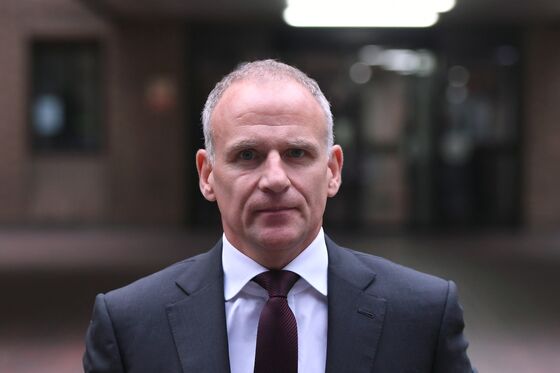 The grocer joins other companies across the U.K. that are cutting thousands of jobs as uncertainty over Brexit feeds concerns in executive suites and households. Carmaker Jaguar Land Rover said earlier this month that the U.K. would be part of its 4,500 job-cut program, while Vauxhall said it plans to trim 241 jobs at a plant in Ellesmere Port, England. Energy supplier EON SE said in August that it would cut 500 jobs.
Like other mainstream supermarkets, Tesco is getting squeezed by German discounters Lidl and Aldi, while more people are buying groceries online from home. Rival J Sainsbury Plc responded with a deal to buy Walmart Inc.'s Asda, vowing to use its greater purchasing clout to cut costs. That's put pressure on Tesco to accelerate its own reductions.
Cutting jobs is "a move that the industry has been making in general," Berenberg analyst Dusan Milosavljevic said by phone. Tesco's cost savings have helped the company hold down consumer prices, he said, and counters earmarked for closure have lost appeal among shoppers.
Rank-and-file workers won't be the only ones affected; Tesco said it's talking with colleagues about some of its head-office teams, and moving to a "simpler and leaner" structure. Tesco said it's simplifying its merchandising, so workers can spend more time helping customers rather than moving products around the store. Stock management will also be simplified, the grocer said.
Tesco reported a better holiday shopping season than many of its U.K. rivals, posting Christmas sales that beat expectations, as Lewis said consumers were still spending on food despite growing jitters. The latest results gave the retailer 12 successive quarters of sales growth.
But Sainsbury's deal for Asda would create a more powerful rival. With a combined U.K. grocery market share of 31 percent, according to research firm Kantar, they'd leap ahead of Tesco's current market-leading 28 percent. Regulators are currently reviewing the acquisition.
The labor market has been one of the bright spots of the U.K., with employment rising to a record even as economic growth has slowed. But a retail crisis that has already forced British mainstays like department-store chain House of Fraser into insolvency could change that.
The toll could mount with the collapse of another retail chain. European Food Brokers, the owner of wine merchant Oddbins, has filed for insolvency proceedings, appointing Duff & Phelps as administrator, Sky News reported. European Food Brokers and Duff & Phelps did not immediately respond to requests for comment on the move, which would affect more than 500 jobs, according to the report.
While most sectors have been adding jobs, retail and wholesale are contracting, according to the Office for National Statistics. There were 4.97 million jobs in the sector in the third quarter, 19,000 fewer than a year earlier.
"Staff at Tesco are shocked and dismayed by the scale of yet another round of potential job losses, which clearly demonstrates the pressure retailers are under in the current very difficult and uncertain economic climate," shop workers' union Usdaw said in a statement.