Tepco Eyes Scrapping Fukushima Plant That Survived Tsunami
(Bloomberg) -- Japan's Tepco said it may scrap an operable nuclear power plant near its ruined Fukushima Dai-Ichi station amid sustained regional opposition to its use following the 2011 disaster.
The utility, officially known as Tokyo Electric Power Co. Holdings Inc., said in a statement Thursday that it's looking to permanently shut the four units at Fukushima Dai-Ni after Governor Masao Uchibori requested the move during a meeting with the company's president.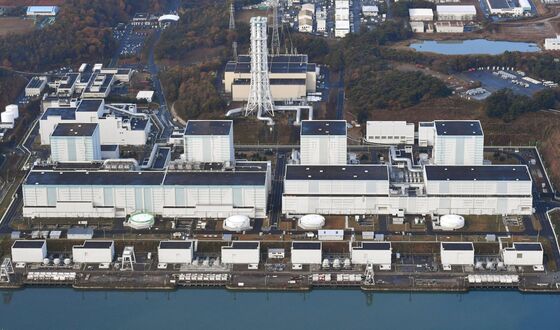 Dai-Ni survived the damage it sustained from the 2011 tsunami that wrecked the Dai-Ichi plant, about 11 kilometers (6.9 miles) to the south, and has been offline in a so-called "cold shutdown." While that left open the option of an eventual restart, return to commercial operations was never seen likely because of local opposition and the site's association with the disaster.
"Tepco can't run any nuclear operation in Fukushima after the incident due to local opposition," said Martin Tengler, an analyst at Bloomberg New Energy Finance. "If they start running a plant with the name Fukushima, more people would probably switch to other retailers."
The plant's decommissioning may place more pressure on the utility known as Tepco to restart reactors at its Kashiwazaki-Kariwa plant about 215 kilometers west in the Niigata prefecture as it seeks to boost profitability. Japan's nuclear regulator said last year two reactors at the plant met post-Fukushima safety rules, clearing the way for restart.
While Prime Minister Shinzo Abe's Liberal Democratic Party advocates nuclear power, widespread public opposition has hindered restarts and just five of the country's 39 operable reactors are currently online. In the Niigata gubernatorial election earlier this month the LDP-backed candidate won a narrow victory and has said he only supports KK restarts after prefecture-level atomic safety investigations are completed.
"As part of the responsibilities of the utility's top management, it listened to the request of the locals to make their decision," Japanese Chief Cabinet Secretary Yoshihide Suga said Thursday at a press briefing in Tokyo. "As the government, we look at this favorably."
Tepco hasn't officially applied to restart the remaining five reactors at the facility amid calls for some of the units to be decommissioned.
Scrapping the four units at Fukushima Dai-Ni would reduce the number of operable reactors in Japan to 35, a decrease from 54 operable units before the disaster. So far, eight units have restarted under the post-Fukushima rules.