Vote on Martial Law Due After Russia Flare-Up: Ukraine Update
(Bloomberg) -- Ukraine's parliament will vote on whether to impose martial law after Russia fired on its warships Sunday. Several sailors were wounded in the clash, which sparked the dramatic renewal of tensions between the ex-Soviet neighbors in the Kerch Strait, near Crimea, which President Vladimir Putin seized with his military four years ago.
We're following latest developments in real time. The time stamp is for Kiev.
Ukrainian parliament to discuss potential vote imposing martial law
Russian and Ukrainian assets slide
Crimea flare-up offers Putin fresh chance to test West's resolve
Haley: Russian Actions Make Normal Ties Impossible (6:56 p.m.)

Nikki Haley, the U.S. ambassador to the United Nations, said Russia's actions continue to make normal relations between Washington and Moscow "impossible." Speaking during an emergency session of the UN Security Council, Haley said her comments followed a conversation with President Donald Trump and Secretary of State Michael Pompeo earlier in the day and that she was reflecting U.S. concerns at the "highest level."
Ukraine Calls for More Sanctions Against Russia (6:12 p.m.)

Ahead of the start of an emergency United Nations Security Council meeting on the crisis, Ukrainian Ambassador Volodymyr Yelchenko said tougher sanctions are "the only way" to deal with the situation, "because Russia doesn't understand any other language, unfortunately."
Yelchenko said his government has indications that Russia is preparing a ground assault on two Ukrainian ports.
"The country should be ready, and the military should be ready," Yelchenko told reporters in New York.
Merkel Offers Poroshenko Help to De-Escalate (6:05 p.m.)
German Chancellor Angela Merkel discussed the conflict in the Kerch Strait with Ukrainian President Petro Poroshenko, according to her office. "The chancellor expressed her concern about the situation and cited the necessity for de-escalation and dialogue, which she'll work toward," the Chancellery said in an email. The statement said the two leaders would remain in close contact.
Poroshenko Scales Back Plan for Martial Law (5:39 p.m.)

President Petro Poroshenko cuts back his initial plan of declaring martial law for 60 days after the Radical Party objects to the duration. In a pre-recorded television address, Poroshenko says the period will be for 30 days, and presidential elections, planned for March 31, will happen on time.
Martial law will come into effect at 9 a.m. on Nov. 28, if parliament approves the decree as expected in a vote expected later on Monday, Poroshenko said. He added that Ukrainian intelligence reports have warned there is a "serious" threat of a land operation against Ukraine from Russia. The declaration of martial law doesn't equate a declaration of war, he said.
Radical Party Forces Recess in Martial Law Vote (5 p.m.)
Parliament adjourns before debating draft legislation on martial law proposed by President Petro Poroshenko after the populist Ukrainian Radical Party led by Oleh Lyasko surrounds the speaker podium and calls for a break. The party said it wants to discuss the bill with the president, and ask him why martial law should be declared for 60 days.
Some civil rights may be curtailed, according to the draft published on parliament's website. They include the right for private correspondence, free movement, the freedom of speech and thought, the right for demonstration, the right for a person to freely use his or her property and assets, the right to do business, the right to be elected, the right to strike at work and the right to an education.
U.K. Says Russia Must Release Detained Ukrainians (4:41 p.m.)
U.K. Foreign Secretary Jeremy Hunt "utterly" condemned Russia's use of force on Ukranian vessels entering the Sea of Azov and says it shows contempt for international norms.
Martial Law Would Apply Nationwide in Ukraine (3:13 p.m.)

President Petro Poroshenko has submitted his decree on martial law, which parliament is set to debate starting at 4 p.m. in Kiev. The text reveals that the measure would cover the whole country, not just regions in the immediate area of the long-standing conflict with Russian-backed fighters. It would begin Monday and remain until Jan. 25.
The decree also calls for a partial military mobilization, air defense of major government sites, industrial areas and troops, and heightened border security. One clause is marked secret and its details won't be released to the public.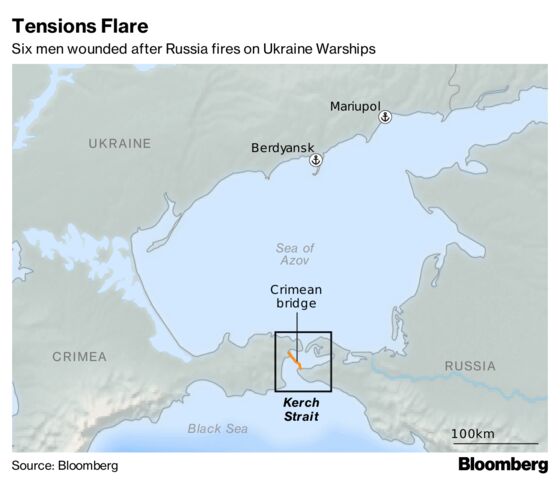 Ukraine Says It Will Seek Peaceful Resolution (2 p.m.)

Ukrainian Foreign Minister Pavlo Klimkin denounced Russia's actions in the sea of Azov as violations of international law and said his country will seek a peaceful way to resolve the escalation in tension. That may include a potential "joint presence" that includes Ukraine's Western allies in the Black Sea region, he said.
"We don't rule out further aggression" from Russia, Klimkin said in Kiev, adding Ukraine has the right of self defense. "The captured marines are prisoners of war."
Russia was reacting to "an incursion into the territorial waters of the Russian Federation by foreign warships," which refused to respond to requests from border guards, Kremlin spokesman Dmitry Peskov told reporters on a conference call. The Russian ships acted strictly in accordance with domestic law, he said.
Russia's annexation of Crimea -- and the waters around the peninsula that include the Kerch Strait -- hasn't been recognized on the international stage.
European Union Condemns Russian Actions in Strait (1:31 p.m.)
"We expect Russia to restore freedom of passage at the Kerch Strait and urge all to act with utmost restraint to de-escalate the situation immediately," the EU said in a statement.
Russia said earlier that it had re-opened the waterway for civil navigation.
Poland's Foreign Ministry joined in the international criticism, saying the escalation in tension was "a result of the Russian Federation's consistent breaches of the basic principles of international law, including the violation of Ukraine's territorial integrity and sovereignty."
"We strongly condemn Russia's aggressive actions and call on its authorities to respect international law. We urge both sides to show restraint in the current situation, which may pose a threat to of European security," the Foreign Ministry said.
Merkel Sees 'No Justification' for Russia's Actions (1:12 p.m.)
German Chancellor Angela Merkel's government cited "grave questions" with respect to Russia's use of force in the Kerch Strait, according to chief spokesman Steffen Seibert. He said there was "no justification" for Russia's action "based on the facts known to us."
The German government is in contact with Moscow and Kiev, calling on free access to the Sea of Azov. Russia's construction of the bridge over the Kerch Strait, just as the annexation of Crimea, is a violation of international law, Seibert said.
Political directors from Russia, Ukraine, Germany and France, who had planned to meet in Berlin Monday to discuss the conflict in eastern Ukraine, will also discuss the issue, Germany's Foreign Ministry said.
Dutch Foreign Minister Stef Blok said Russia's restricting access to the Sea of Azov was "unacceptable."
Lithuania Condemns Russia's Actions Against Ukraine (1:05 p.m.)
Lithuania, a member of NATO and the EU, said it "strongly condemns" Russia's actions against Ukraine, according to a statement from the Foreign Ministry in Vilnius. It called on the international community to join it in "using all means in countering them, and to demand that Russia should immediately end them."
"These provocative actions by the Russian Federation violate Ukraine's sovereignty, territorial integrity, the fundamental principles of international law, and cannot be qualified otherwise than as an act of open military aggression against Ukraine."
Central Bank Sees No Grounds for FX restrictions (12:45 p.m.)

Ukrainian central bank Governor Yakiv Smoliy is meeting the heads of the country's 40 largest lenders to discuss operating the banking system if martial law is imposed, according to a statement on the regulator's website.
Smoliy sees no grounds to tighten foreign-exchange restrictions. The central bank is continuing "to watch the FX market closely and is ready to intervene" to aid the hryvnia if needed, he said. He added that reserves are sufficient at $17.8 billion.
Finland Calls for Russia to Open Kerch Strait (12:01 p.m.)
President Sauli Niinisto, whose country is a member of the European Union, called on Russia to return the three ships it seized from Ukraine, as well as their crews. Russia must also allow free passage to vessels through the strait to reduce tension in the area, he said in a statement.
"Instability in the area has continued for a long time and the risk of escalation is high," Niinisto said in the statement. "That's why it's of primary importance that the international community react to the incident without delay."
Niinisto also called for the United Nations Security Council to hold an emergency session and for an independent, international review of events. The Security Council will hold an extraordinary meeting today at 11:00 a.m. in New York, according to Nikki Haley, the U.S.'s ambassador to the UN.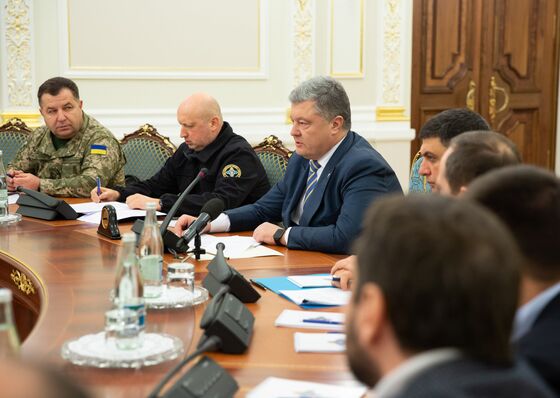 Martial Law Seen as No Obstacle to Ukraine IMF Aid (11:01 a.m.)
The possible imposition of martial law by Ukraine's government wouldn't be an "obstacle" for the country to receive further financial aid under the International Monetary Fund, according to two people familiar with the matter.
The IMF will release an official statement on Ukraine later on Monday. The Washington-based lender will need to study the proposed law on martial law if it's passed, according to its office in Kiev.
Germany Warns of 'Terrible Consequences' (10:51 a.m.)
German Deputy Foreign Minister Michael Roth called on Russia to ensure Ukraine's access to ports in the Sea of Azov "in accordance with international law." The situation is "very dangerous" and both sides should avoid pushing an escalation "that could ultimately lead to terrible consequences," he told broadcaster Deutschlandfunk.
On Sunday, the EU said it expected Russia to restore freedom of passage at the Kerch Strait and to de-escalate the situation immediately. NATO said separately that it's closely monitoring developments.
Russian and Ukrainian Assets Slide (10:41 a.m.)
The Kerch Strait connects the Sea of Azov to the Black Sea and is a major export channel for Black Sea grain, oil, minerals and timber. Chicago wheat futures climbed 1 percent.
The ruble slid for a second day, falling 0.4 percent to the weakest in almost two weeks. The yields on Russian bonds rose, and the cost of insuring the country's debt jumped to the highest in more than two months.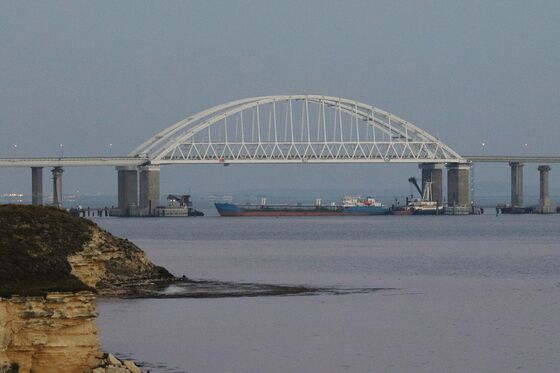 Ukraine's foreign-currency borrowing costs jumped, with the yield on dollar bonds due in 2025 climbing above 10 percent for the first time since March 2016.
Estonia Calls for New EU Sanctions Against Russia (10:31 a.m.)
EU and NATO member Estonia denounced what it called a "full-blown sea blockade" against Ukraine. It called for additional sanctions on Russia and for international observers to be sent to the region. It said Russia was escalating the tensions because of Ukraine's 2019 presidential elections.
"A full-scale military conflict can begin at any moment," Estonian Defense Minister Juri Luik says in an emailed statement.
Canada Condemns 'Aggression,' More Sanctions Likely (10:00 a.m.)
Canadian Foreign Minister Chrystia Freeland condemned Russia for what called "aggression" against Ukraine and vowed to remain "unwavering in its support" for Ukraine's sovereignty.
In a research note, Eurasia Group said that a main difference from earlier clashes between Russian and Ukrainian military forces in the latter's separatist-held east was that Moscow wasn't denying its role in the fighting.
The incident follows months of complaints from Ukraine that Russia has harassed its vessels as it adds military forces to protect the new bridge over the Kerch straight, which it built to connect the Russian mainland to Crimea.
"Western governments will side with Ukraine against Russia over the incident itself, making new sanctions against Russia likely," Alex Brideau, a Eurasia Group director for Ukraine, Russia, and central Asia wrote in a note. "The U.S. and EU had previously warned Russia over the increased naval activity, and EU foreign policy head Federica Mogherini said last week that a response was already in the works."
Chinese Foreign Ministry spokesman Geng Shuang told a briefing Monday that China hopes all parties remain constrained and avoid escalation through talks.
Opposition Legislators Question Need for Martial Law (8:30 a.m.)
Opposition lawmakers accused Poroshenko of seeking to impose martial law in a bid to delay next year's presidential ballot, after Russia attacked Ukrainian vessels in the Sea of Azov.
"An introduction of martial law all over Ukraine is an excellent chance to manipulate presidential elections and in case of need to apply some dictatorship," Oksana Syroyid, a legislator from Samopomich parliament group and deputy assembly speaker, said on Facebook.
The possible cancellation of the presidential ballot is a "threat" for the country resembling a "coup d'etat" and will cause "a popular uprising in the streets," the leader of Radical Party, Oleh Lyashko, said on Facebook.
Ukraine's National Security and Defense Council proposed to introduce martial law for 60 days. The measure "doesn't automatically mean" cancellation of the presidential elections scheduled for the end of March, Iryna Herashchenko, first deputy speaker of parliament and a member of Poroshenko's bloc, said on Facebook.
U.S. Envoy Accuses Russia of Ramming Ukraine Ships (8:15 a.m.)
Kurt Volker, U.S. Special Representative for Ukraine Negotiations, challenged the Russian account of events, appearing to blame Moscow for the conflict in one of the first official reactions from Washington.
"Russia rams Ukrainian vessel peacefully traveling toward a Ukrainian port. Russia seizes ships and crew and then accuses Ukraine of provocation???," he wrote on Twitter.
(A previous version of this story was corrected to reflect Finland isn't a member of NATO).