Tencent Will Subject Players of Its Top Game to Police ID Checks
(Bloomberg) -- Tencent Holdings Ltd. will begin using a police database to verify the ages and identities of players on its biggest mobile title, ramping up a campaign against game addiction in response to growing criticism about the industry's ills.
In a first for China's gaming industry, the social media titan will match players of the smash-hit Honour of Kings against a nationwide police database from next week, Tencent said on its official social media account. That'll help surface under-aged users who're subject to limits on play-time, it added.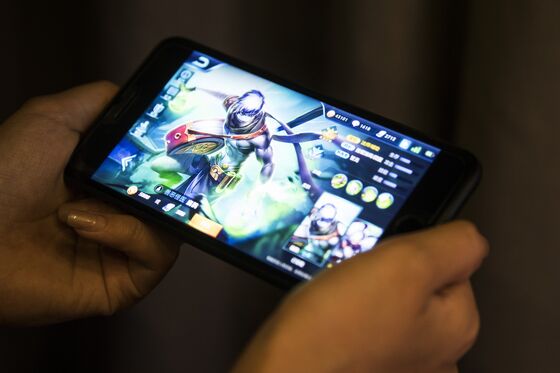 China's 700 million-plus internet and social media users are growing ever more accustomed to constant policing of their activities, and having their identities exposed. But Tencent's initiative will spill over into entertainment, widening the net of scrutiny to include millions of children and casual gamers. Tencent is under fire from regulators and state-run media for fomenting game addiction, particularly via the self-developed Honour of Kings.
The mobile slugfest has evolved into a local phenomenon but also become a lightning rod for criticism about the ills of prolonged gaming. Last week, a coterie of government agencies banded together to issue a raft of edicts intended to combat the growing incidence of myopia among children, taking aim at their usage of electronic devices and the sheer proliferation of online games.
Tencent's shares dived 3 percent Thursday and are now hovering at about their lowest levels in a year. Beyond getting flak for encouraging addiction, the WeChat operator in recent months has also struggled to get its most hottest games to market, walloping its bottom line. Regulators have frozen approvals for its Chinese mobile versions of global sensation Fortnite as they reshuffle responsibilities between agencies.
In its post, the company said the latest move was also intended to address the rampant sale of personal information online.
"We hope we can better guide under-aged players toward more reasonable gaming habits, and preserve their healthy development," Tencent said in its WeChat post. "At the same time, we also want to join hands with parents and society in general to address identity theft and transfers."