Tencent's Worst Investment Has Been Its Own Shares
(Bloomberg Opinion) -- Catching a falling knife.
That's how I'd describe Tencent Holdings Ltd.'s strategy to buy back its own shares over the past six weeks. The adventure started off on Sept. 7 with a minor purchase of 22,700 shares at HK$311.50 apiece. By Thursday morning the stock was down 4 percent, 8 percent, 15 percent.
That's not the worst part. Tencent's first repurchase in four years got even more expensive, with management buying shares for as much as HK$329.60 apiece just two weeks ago. The stock is down almost 20 percent from that level.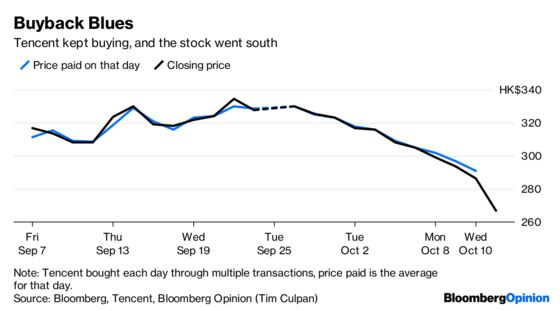 By Wednesday, just 33 days after that initial purchase, Tencent had shelled out HK$807 million ($103 million) for 2.56 million shares. That's an average of HK$315.49 per share. And more often than not, the company lost money by the close of that day's trading.
So far this year, Tencent has bought shares in a range of companies — from a location-based services provider to a grocery-deliveries startup — yet getting a return on its own stock has turned out to be a loser from the start.
To be sure, buybacks aren't designed to make money from your own stock; they're supposed to support the share price and signal confidence, a strategy that's failed so far. 
With shares trading as low as HK$265 Thursday morning, Tencent's dabble in it own stock had lost it 16 percent in less than six weeks.
Annualized, that's a loss of 85 percent.
This column does not necessarily reflect the opinion of the editorial board or Bloomberg LP and its owners.
Tim Culpan is a Bloomberg Opinion columnist covering technology. He previously covered technology for Bloomberg News.