Telefonica, Liberty to Weigh O2, Virgin Merger in U.K
(Bloomberg) -- Telefonica SA and billionaire John Malone's Liberty Global Plc are exploring a combination of their U.K. operations, people with knowledge of the matter said, in a deal that would reshape the British telecommunications industry.
The companies are discussing bringing together Telefonica's O2 wireless unit and Liberty Global's Virgin Media business, according to the people, who asked not to be identified because the information is private. If they reach an agreement, a transaction could be announced as soon as next week, the people said.
Liberty Global's class A shares rose almost 15% in New York trading Friday, while Telefonica's American depositary receipts closed up 6.4%.
A tie-up would add to a long history of dealmaking by Malone, who earned the nickname "Cable Cowboy" while at the forefront of the American pay-television industry in the 1990s. Combining forces in the U.K. would help Telefonica pare its debt and deliver on a new strategy meant to streamline its global empire.
The potential deal would be the biggest in the U.K. telecommunications industry since 2015, when former monopoly BT Group Plc agreed to buy mobile operator EE Ltd. for 12.5 billion pounds ($16 billion), according to data compiled by Bloomberg.
Telefonica is scheduled to announce its first-quarter earnings on May 7. No final decisions have been made, and talks could still fall apart or be delayed, the people said.
A representative for Telefonica declined to comment. A spokesperson for Liberty Global couldn't immediately be reached for comment.
New Street Research valued a potential takeover of O2 UK at $15.8 billion, assuming 50% of the 5.2 billion pounds in cost savings of combining with Virgin goes to O2 owner Telefonica.
"This deal has been mooted for a while, and makes a lot of sense given the trend toward fixed and wireless network convergence," said Matthew Howett, founder of London-based analyst firm Assembly Research.
A deal that brings together a fixed-line operator with a mobile provider is more likely to be approved by regulators than mobile-to-mobile consolidation, Howett said. "It doesn't reduce competition in mobile, and preserves the four-player market that Ofcom and others have been committed to," he said, referring to Britain's telecommunications regulator.
The discussions come at a time when dealmaking has been crippled globally by the coronavirus pandemic. April was the worst month for deals globally since 2004, with a smaller volume of announced deals than even in the depths of the global financial crisis. The potential transaction would be the largest since the Covid-19 outbreak.
O2, a pure-play wireless carrier, had 34.5 million customers using its network at the end of December, according to the company. O2 reported 7.1 billion euros ($7.8 billion) of revenue last year, accounting for about 15% of Telefonica's total, data compiled by Bloomberg show.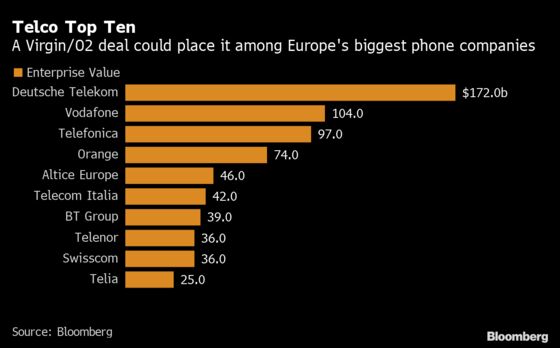 Virgin Media offers pay-television, broadband, and phone packages in the U.K. It also sells mobile services that run on BT's network. That partnership is set to shift to Vodafone Group Plc when the current agreement runs out late next year.
Liberty Global generated almost 40% of its revenue from Virgin Media last year, according to data compiled by Bloomberg. It bought the business in 2013 through a cash-and-stock deal valued at about $16 billion at the time of announcement.
Telefonica announced a restructuring plan in November that will see it focus on four main markets, including the U.K., while scaling back its presence in Latin America. The Madrid-based company also said at the time it was looking to monetize some infrastructure assets and would take an "open approach" to deals.
Malone made his name selling cable provider Tele-Communications Inc. to AT&T Inc. for $48 billion in 1999. He pursued a decade of rapid expansion in the European telecommunications industry with Liberty Global starting in 2005 before making a series of divestments in recent years.
Liberty Global last year completed the sale of its German and eastern European operations to Vodafone Group Plc for 18.4 billion euros ($20 billion). The group also offloaded its satellite TV unit and sold its Austrian division to Deutsche Telekom AG in 2018. Another deal to sell Liberty Global's Swiss business to Sunrise Communications AG fell apart last year following opposition from the buyer's largest shareholder.
In 2018, Liberty Global spun off some of its operations to form a separate vehicle called Liberty Latin America Ltd. That company then pursued a takeover of rival regional carrier Millicom International Cellular SA, though talks fell apart after the parties failed to reach an agreement on valuation.