Telecom Italia Considers Bidding for Nextel in Brazil
(Bloomberg) -- Telecom Italia SpA's unit in Brazil is considering bidding for the country's fifth-largest wireless carrier, Nextel Telecomunicacoes Ltda., to boost its market share and gain spectrum in some metropolitan areas, people familiar with the matter said.
NII Holdings Inc., the majority owner of Nextel, surged as much as 27 percent on the news in U.S. trading.
Telecom Italia Chief Executive Officer Amos Genish is considering discussing the possible deal at the carrier's planned board meeting Sept. 24, according to the people. The company may hire advisers to explore a potential offer if the board approves, the people said, asking not to be identified because the information is private.
The move by Telecom Italia would shore up its position of strength in a fragmented market where stiff competition has kept prices low. Brazil, which accounted for 23 percent of total revenue last year, is a bright spot for the company as it faces headwinds in its home market with the recent entry of discount French carrier Iliad SA. TIM Participacoes SA has steadily scooped up more subscribers to the detriment of Telefonica SA's Vivo in recent years.
Billionaire Len Blavatnik's Access Industries Holdings LLC in May agreed to buy a 30 percent stake in Nextel from Norway's Ice Group AS for as much as $75 million, valuing the company at $250 million at the time. The remaining 70 percent is owned by Reston, Virginia-based NII, which had already surged about 900 percent this year through Wednesday on reports that it hired Rothschild to advise on the sale of its holding.
NII traded up 26 percent to $5.35 as of 10:04 a.m. in New York. The stock was worth just 42 cents at the end of 2017.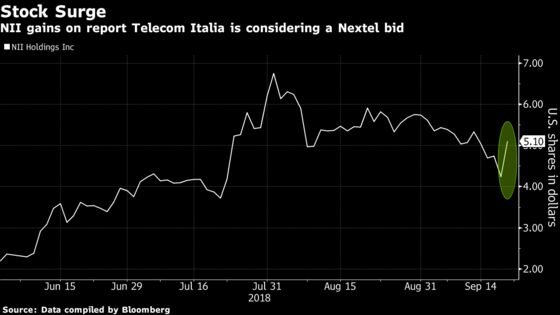 Nextel had 3.2 million subscribers at the end of last year and reported an adjusted operating loss before depreciation and amortization of $31 million.
Genish, a veteran telecom executive who spent several years in Brazil, also plans to discuss some possible asset sales at the board meeting, the people said. Potential divestments under consideration include the company's wholesale arm Sparkle and media unit Persidera, as well as a partial stake in its listed wireless tower unit Inwit SpA, according to the people.
Representatives for Telecom Italia's Brazilian unit and Nextel weren't available for a comment outside business hours. Telecom Italia declined to comment.
Brazil's current spectrum cap, which has been a barrier for consolidation, is in the process of being changed by the country's telecom regulator Anatel. The proposal for new limit is currently being analyzed by the agency's law department, Anatel said in an email.
While Brazil's four big carriers have been cutting capital expenditures to counter diminishing returns, thousands of regional or niche-oriented Internet broadband services have emerged, particularly in smaller cities or urban areas. Those niche players will eventually become attractive acquisition targets for bigger carriers, according to a BTG Pactual report.
Telecom Italia is in a middle of a fight between its two largest investors, the French media conglomerate Vivendi SA and U.S.-based activist investor Elliott Management Corp. Genish has spent almost a year trying to right the ailing carrier, which has not paid a dividend on its ordinary shares since 2013.