Teetering Flybe Puts Johnson on the Spot as Brexit Day Looms
With U.K. airline Flybe Group Plc teetering on the brink of collapse, Prime Minister Boris Johnson faces a dilemma.
Should the government stick to its long-held policy and let market forces take their course, or step in and help Flybe owners including Virgin Atlantic Airways Ltd. and private-equity firm Cyrus Capital with a rescue?
The decision would normally be a straightforward one for a Conservative administration in a country that has long eschewed state bailouts. Monarch Airlines, Flybmi and Thomas Cook Group Plc all failed without government help in the past 2 1/2 years. Yet with Brexit two weeks away, Flybe's unique business profile in serving provincial Britain makes it a different proposition.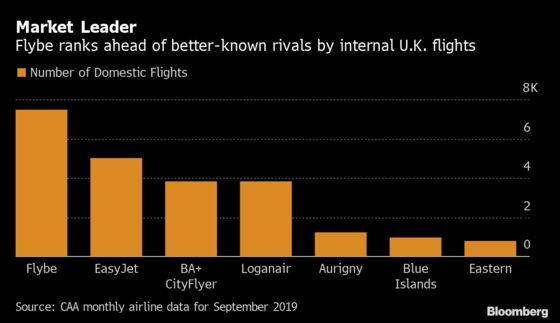 While the airline carried only 8 million passengers last year, compared with almost 100 million at EasyJet Plc, it ranks No. 1 on U.K. domestic routes and provides vital links to London and the continent from cities spanning Belfast in Northern Ireland to Exeter in England's far southwest and Inverness in the Scottish Highlands to Norwich in East Anglia.
"It's not for a government to step in and save companies that simply run into trouble," Johnson told the BBC Tuesday. "But be in no doubt that we see the importance of Flybe in delivering connectivity. We are working very hard to do what we can, but obviously people will understand there are limits commercially to what a government can do to rescue a particular firm."
The British Airline Pilots' Association said Monday that if Flybe didn't exist, "it would have to be invented" to maintain crucial links and support the economy. A collapse would effectively leave some locations without an air service or reliant on rail journeys spanning many hours, and Johnson said he understood that the U.K.'s infrastructure is deficient "in many parts of our country."
Following talks between the government and Flybe owner Connect Airways, comprising Virgin, Cyrus and Stobart Group, the suspension of air passenger duty has emerged as one possible step to help save the airline, a person with knowledge of the situation told Bloomberg.
Such a measure would save Flybe, which employs about 2,400 people, more than 100 million pounds ($130 million), according to the person, who asked not to be named discussing a private matter.
Johnson's business and transport secretaries, Andrea Leadsom and Grant Shapps, will meet with Chancellor Sajid Javid to discuss the proposed terms of a bailout, the person said.
Flybe said it doesn't comment on rumors and that its business continues to operate as usual. Virgin, Stobart and Cyrus declined to comment.
The airline was delisted in March after its purchase by Connect Airways for 2.2 million pounds, with the consortium also providing 100 million pounds in rescue funding. It had struggled for years with the narrow margins on regional routes, where demand is lower, together with fluctuating fuel prices and uncertainty surrounding Brexit.
Preparations are under way in the event that Flybe does go under, the person said. Since it's not a holiday firm like Thomas Cook, the Civil Aviation Authority wouldn't automatically repatriate or compensate passengers, CAA spokesman Richard Taylor said, adding: "That would be a decision for the government."
The carrier operates 68 planes on almost 140 routes serving 56 cities across the U.K. and Europe. Some of its routes, like a 130-mile service from Cardiff to Anglesey off the north Welsh coast, are among the shortest in the industry.