Technology Stocks Bear Brunt of Selling in Broader Market Slump
(Bloomberg) -- Technology was the hardest hit in Thursday's broader selloff on concerns about deteriorating relations between China and the U.S.
The revamped tech and communication services group, which together account for more than 30 percent of the S&P 500 by weighting, were the biggest laggards in the index for most of the trading session.
Chip stocks were among the weakest following a report that China used a tiny chip in a hack that infiltrated several top U.S. companies and as negative sentiment from Wall Street continues to mount. The Philadelphia Semiconductor Index tumbled as much as 2.6 percent, double the decline of the S&P 500 and on track for its worst decline in almost a month.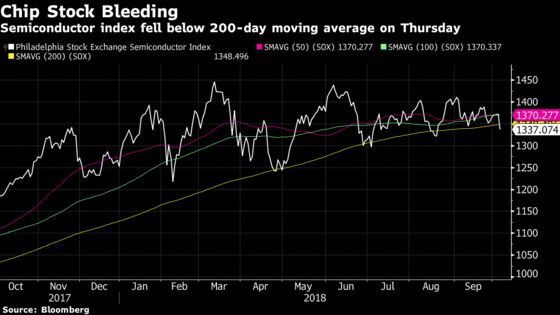 "I think what you're seeing is the spotlight back on the potential impact of the U.S.-China trade dispute," said Daniel Morgan, senior portfolio manager at Synovus Trust Co. The rising 10-year treasury yield is also a factor as investors consider selling what they may perceive to be riskier investments like technology stocks, Morgan said.
Alphabet Inc. paced declines among the largest U.S. technology companies with a 3.9 percent retreat as of 2:20 p.m. in New York. In remarks on Thursday at an event in Washington D.C., Vice President Mike Pence called on Google to halt development of a search engine being designed for the Chinese market. He also cast China as a Republican campaign foe.
Microsoft Corp., Facebook Inc., and Amazon.com Inc. all fell around 3 percent.
Super Micro Computer Inc., the company whose servers were said to have hosted the chip used in the hack, saw its market value nearly cut in half. The stock is down 46 percent, the biggest decline since the company went public in 2007. Super Micro disputed a summarized version of the report, while China's Ministry of Foreign Affairs called safety in cyberspace a common concern that warrants dialogue and further collaboration.