Tech Wreck in Stocks Spares the Old Guard Like Oracle, HP
(Bloomberg) -- The Nasdaq 100 Index has taken a nasty dip in recent weeks but some tech stocks are rallying -- just not the ones that have ridden on the waves of investor euphoria in recent years.
Older technology companies peddling legacy products have rallied in the past two weeks as rising bond yields and an improving economy have prompted investors to sell shares of faster-growing companies like Salesforce.com and buy more profitable ones like HP Inc.
HP, Xerox Holdings Corp. and Oracle Corp. have all advanced more than 8% since Feb. 19, making them the best performers in the S&P 500 Information Technology Index. Salesforce, on the other hand, is the second-worst performer in the group with a decline of 16%. That trade was on display again Wednesday with the Nasdaq 100 Stock Index tumbling 2.9% while International Business Machines Corp. and Oracle advanced. The benchmark index is now trading at the lowest since Jan. 6.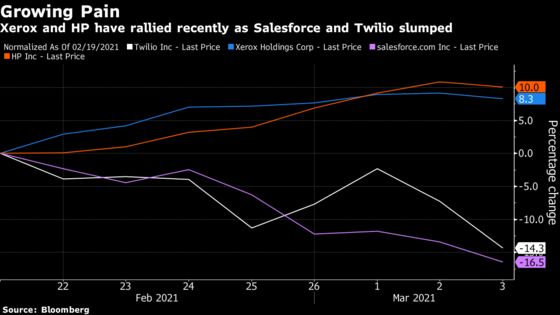 The rotation that's taking place within the technology sector is a microcosm of what's been playing out in the broader market for months as investors have poured money into smaller and cheaper companies that tend to outperform during economic recoveries.
At the same time, higher Treasury yields make it harder to stomach paying up for companies whose abilities to generate comparable levels of profitability are uncertain or years in the future.
"You don't have to imagine everything going right for the Oracles of the world to make money," said Kim Forrest, founder and chief investment officer at Bokeh Capital Partners. "They are making money now."
Morgan Stanley said earlier this week that investors should look for bargains within less-loved sectors like technology hardware rather than bet on a broad advance for U.S. stocks, which have already priced in much of the expectations for earnings expansion and economic growth in 2021.
"With index level upside limited, we think stock selection offers better return prospects," strategists led by Mike Wilson wrote in a research note. The bank's top picks for hardware include ATM maker NCR Corp. and data-storage company NetApp Inc.
With the yield on 10-year U.S. Treasuries flirting with 1.5% on Wednesday, software makers Twilio Inc. and Zoom Video Communications Inc. were among the biggest decliners, falling 7.6% and 8.4%, respectively. Twilio is priced at 26 times 2021 revenue projections, while Zoom trades at 26. Oracle, which rose 0.4% to a record of $66.91 on Wednesday, has a price to projected sales ratio of less than five times.
Bill Stone, chief investment officer at Glenview Trust Co., is a fan of value stocks but warned of pitfalls if companies like HP aren't able to maintain profitability.
"The worry of course is that those legacy companies maybe don't have as bright of a future," he said. "It's really a cash-flow play and you hope that they can keep the cash flow in the future."