Tech Megacaps Face Their Biggest Test in Months: Taking Stock
(Bloomberg) -- The path of least resistance is no longer up, as S&P 500 futures are under pressure yet again following further weakness in Europe and a very modest breather in China, with the Shanghai Composite still down 3.5 percent since returning from the one-week holiday.
Culprits include 1) another uptick in the 10-year yield to a seven-year high of 3.26% as bond markets reopen, 2) the IMF cutting its growth forecast for the first time in over two years due to trade and emerging market stresses, and 3) a slew of profit warnings (as has been the case lately) from $26.5 billion coatings specialist PPG Industries to $4.4b software company Blackbaud -- even Europe's largest consumer-electronics retailer Ceconomy is getting in on the action by plunging ~20% to a record low after slashing its view for the second time in three weeks.
Sectors to watch today: Anything exposed to coating now that both PPG and RPM have released disappointing numbers (we're looking at you, Sherwin-Williams); all of the groups that usually turn volatile ahead of hurricanes like those tied to home improvement, cement, and of course, Generac (Michael seen becoming Category 2 or 3 by the time it hits the U.S. tomorrow); the pot stocks after a positive note out of Cowen and the building products on a negative note from JPMorgan (more on these below); and the gene editing names ahead of a couple conference presentations today (Editas and Crispr both at Chardan).
The Curious Case of the Defensive Bid
This sounds like the beginning of an ESPN "30 for 30" special, but what if I told you that the 10-year yield would catapult nearly 20bps in 3 days during an October in 2018? What if I told you that ever since that surprise surge, only two S&P sectors caught a substantial bid while all others traded flattish to down multiple percentage points? Now what if I told you that those two sectors were the financials (as expected) and the utilities (not so much), with each rising the same amount of ~1.7%?
In fact, three of the more defensive sectors in the utilities, consumer staples, and REITs, are among outperformers since rates made their move last week. This makes sense in the context of a market decline, like what we saw in early September when investors rotated into the group on a rough start to the month. But these are all bond proxies, and in the face of a potential inflection point for Treasury yields, the strength is catching a lot of people off guard, many of whom would have expected a more aggressive bid for the banks and across-the-board market sell orders on the three aforementioned sectors.
Morgan Stanley strategist Michael Wilson, who has been a contrarian among his peers and on the defensive train for months now, calls the relative outperformance in these groups "inconsistent" with what's going on elsewhere in the market. He tries to explain why it might be happening like so: "We think this suggests the rise in rates is not so much about better growth but about the risk of rising inflation/costs, and the funding of growing deficits at a time in the cycle when deficits typically fall."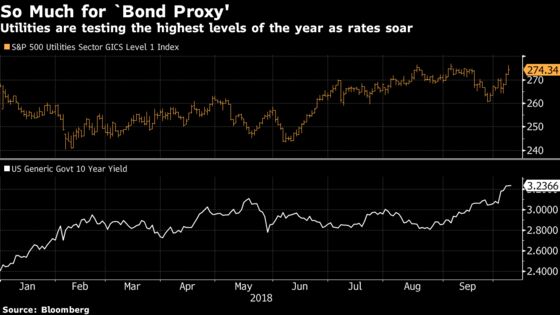 A Test for the Tech Megacaps
Meanwhile, the selling in tech isn't letting up in the slightest, causing many hedge fund managers and fast money traders to gnash their teeth as they wait for hints of relief.
So many large-cap giants and household names in the technology world are nearing or sitting right at major technical levels that would make any long-term bull salivate for the opportunity to buy at cheaper multiples.
Like within the FAANGs, where Apple is heading towards its near-term support at ~$220 (held this level throughout the month of September), Facebook is hovering above its Cambridge Analytica lows from late March, and Alphabet stopped on a dime at its 200-day moving average during Monday's session.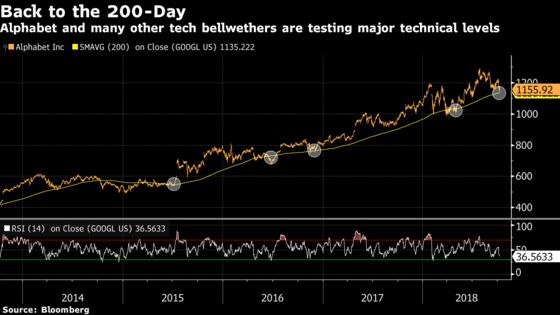 The QQQ in itself is sitting pretty at the 100-day moving average while names like Nvidia, Adobe, and Salesforce are ping-ponging between their 50-day and 100-day averages and Splunk, Workday, and Paypal are all testing their 200-days.
One chart to be wary of is Twitter, whose shares tripled in under a year only to give up much of those gains since the last earnings period. The chart is now forming a precarious head-and-shoulders formation that could cause a run for the exits if the neckline gives way, the next catalyst is only a couple weeks away with the Oct. 25 earnings report.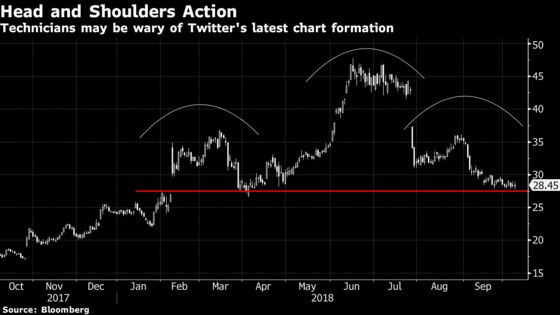 Notes From the Sell Side
Macquarie picked up coverage on Tesla with an outperform rating and one of the higher price targets out there at $430. Their big call near term is that the company will get over the "debt maturity event hump," particularly if shares reach $360 by March 1, 2019.
MoffettNathanson says Snap is "quickly running out of money" and suggests that a capital raise is likely needed in the middle to end of 2019.
Deutsche upgrades Walmart to a buy with one of the higher targets out there at $113, saying the company is now in position to accelerate market share gains in grocery while also growing EBIT dollars and expanding ROI. The same analyst is also downgrading Smart & Final to a hold and Kroger to a sell.
JPMorgan is becoming more cautious on the building products group weeks after a similar call on the homebuilders. They downgrade Mohawk Industries to underweight (price/cost, negative mix, softer demand) and Whirlpool to a neutral (weak industry demand, potentially negative mix next year).
Cowen maintains outperforms on two pot stocks, Tilray and Canopy Growth, citing the large TAM opportunity supported by existing demand. The price target for the once high-flying Tilray is boosted from $62 to $172, which is ~23% above the last close.
Goldman initiates the pipelines and MLP sector with an attractive rating, citing valuation, improving cash flow, and the fact that many have simplified their structures into C-Corps; the bank has buys on Kinder Morgan (on the conviction list), Energy Transfer Equity, Tallgrass Energy, and Summit Midstream (upgraded to a buy).
Tick-by-Tick Guide to Today's Actionable Events
Today -- Google unveils new pixel smartphones and other hardware
Today -- IPO lockup expiry for Zuora (ZUO)
7:00am -- SODA extraordinary general meeting on PepsiCo deal
7:30am -- ADBE CEO Shantanu Narayen on Bloomberg TV
8:00am -- Fed's Kaplan at Economic Club of New York
8:30am -- SJM investor day
9:00am -- DDR investor day
9:00am -- HELE earnings call
10:35am -- Fed's Williams, Indonesia's Warjiyo speak to press
11:00am -- AZZ earnings call
11:00am -- EDIT at Chardan genetic medicines conference
11:15am -- Stan Druckenmiller at Grant's Fall Conference
11:30am -- CRSP at Chardan genetic medicines conference
12:00pm -- DIS CEO Bob Iger, Uber CEO Dara Khosrowshahi at Vanity Fair summit
12:40pm -- BRFS CEO Pedro Parente on Bloomberg TV
1:00pm -- Fed's Harder speaks on important of education to the economy
1:05pm -- Bill Ackman with "A New Idea" at Grant's Fall Conference
1:30pm -- Oaktree Capital co-founder Howard Marks on Bloomberg TV
4:30pm -- OKTA investor day
4:45pm -- NFLX Chief Content Officer Ted Sarandos at Vanity Fair summit
6:30pm -- Trump hosts MAGA rally in Iowa
9:15pm -- Fed's Williams speaks on monetary policy