Tech IPOs Erupt Higher as Dropbox Gets Swept Up in the Mania
(Bloomberg) -- Newly listed technologies companies are extending their outperformance against larger peers in the latest injection of euphoria from traders chasing the high returns.
This year's U.S. technology initial public offerings have gained an average of 77 percent, weighted by offering size, according to data compiled by Bloomberg. That return has grown from 66 percent as recently as June 11. All other new U.S. listings average a 12 percent return.
Dropbox Inc. surged 14 percent to a record high since its March 23 debut, and gained as much as 20 percent intraday. Zuora Inc. also breached double-digit gains intraday, although it pared the move to close higher by 5.4 percent.
Huya Inc. and iQIYI Inc., two recent U.S. listings by Chinese firms, also jumped by more than 10 percent each. These stocks may be rising on a short squeeze combined with buying from traders hoping to ride the momentum higher, said Bruce Cox, senior vice president of investments at Stifel Nicolaus & Co.
"They should roll over like a domino the first time something negative happens," said Cox, who is short Huya. "The indexes are at all time highs, people are looking at the charts saying, 'let's pile in."'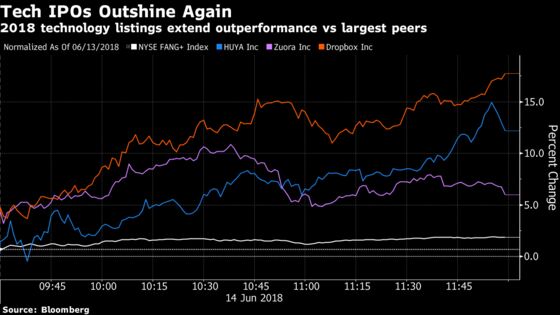 The next potential IPO play for traders is just around the corner. Tax-management software maker Avalara Inc. is expected to start trading Friday after raising up to $198 million in an offering by Goldman Sachs, JPMorgan, Bank of America, JMP, KeyBanc and Stifel. The price range for Avalara's IPO was boosted Wednesday to $21 to $23 a share, up from a range of $19 to $21 previously.