Tech Bloodletting Nears $300 Billion Since Facebook Reported
(Bloomberg) -- The rush to get out of U.S. tech stocks entered its third day Monday as concerns mounted over how the storied FAANG bloc will fare amid rising interest rates and slower growth.
All of the FAANGs retreated, with Facebook Inc. sinking 3.3 percent and Netflix Inc. falling as much as 5.3 percent. The FANG index retreated 2.5 percent, widening its three-day loss to 9 percent. This compares with a 1.4 percent loss for the S&P 500 over the same time.
Investors have been bailing from the space since the Facebook's earnings hit July 25, prompting the biggest market-cap decline in U.S. history. Market darlings since the 2016 presidential election, the group of tech megacaps has seen investors heading for exits with the advance seen as having gone too far, too fast.
"Sentiment is turning sour in FANG, especially after earnings," Michael Antonelli, an institutional equity sales trader and managing director at Robert W. Baird & Co, said in an email. "They are dragging the Nasdaq 100 down by its feet."
The selloff has widened losses in the S&P 500 Information Technology Index to 5.2 percent, the biggest three-day retreat since March. The rout erased $240 billion from the market capitalization of the S&P 500 Information Technology Index to $6.3 trillion, from $6.6 trillion before Facebook reported a miss on its user growth.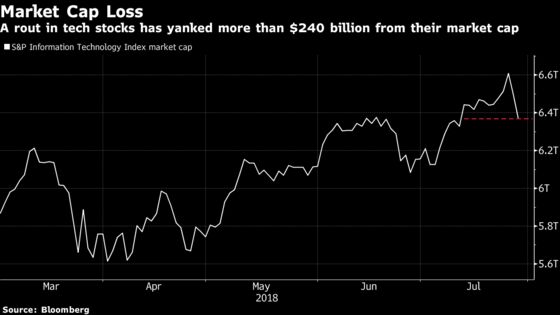 Sentiment on the tech megacaps has soured since Wednesday, when Facebook reported disappointing second-quarter user growth that knocked the stock down 19 percent. To Bank of America's Michael Hartnett, a rout in Facebook signaled a peak in tech megacaps, prompting him to recommend clients short the FAANG block.
Support is wearing thin for technology companies. The S&P 500 Information Technology Index fell below its 50-day moving average on Monday, while the Nasdaq Composite Index and the Nasdaq 100 Index hover near that level. Investors last week pulled $1.4 billion from the largest exchange-traded fund tracking the Nasdaq 100 Index last week in the biggest withdrawal in seven weeks.
For more on Facebook's recent woes, check out the Decrypted podcast: