Target's Slump Deepens Retail Malaise Just in Time for Holidays
(Bloomberg) -- Shoppers are turning out in droves for the holiday season, but Target Corp. and the rest of the retail sector are in a funk.
Several of America's big-name retailers reported same-store sales growth that might have heartened investors in the past, with Kohl's Corp., TJX Cos. and Ross Stores Inc. beating forecasts and Target's robust 5.1 percent growth coming in just shy of estimates. It wasn't enough, with shares of all four slipping as Wall Street focused on the negative, wiping out about $9.5 billion in market value.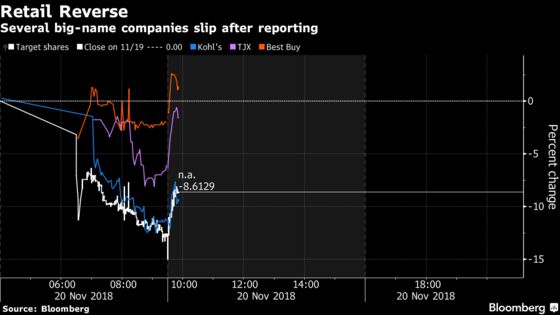 For Kohl's, the bad news was weak full-year profit guidance. For Target and TJX, it was a margin squeeze, likely brought on by rising trucking fees and e-commerce investments. Best Buy Co., the industry's shining star over the past year, was one of the few bright spots in the industry, boosting its earnings forecast for the year.
Target shares fell more than 14 percent on Tuesday. Kohl's plunged as much as 13 percent, the most intraday since January of 2017. TJX's decline of 6.9 percent was the most since 2014, while Best Buy reversed earlier losses to rise as much as 3.6 percent.
The U.S. holiday shopping season is expected to be among the best in recent memory, with sales up 5 percent or more. But on Wall Street, there's anxiety about whether this is shaping up to be Peak Christmas, with retailers spending too much to outdo each other on free shipping and expanded gift departments just as sales growth begins to subside.
"Market expectations in this environment are high," said Oliver Chen, an analyst at Cowen.
The slew of troubling reports illustrate how much investor expectations have risen for even the retailers performing at the top of their class, a group that also includes Macy's Inc., Home Depot Inc. and Walmart Inc. Rising consumer confidence, low unemployment and tax cuts have provided strong tailwinds for merchants all year, but after several strong quarters, concerns are mounting that the momentum may have peaked.
Topping the list of concerns are new tariffs on Chinese goods, heavy investments to raise wages and grow online sales, and the fear of slowing economic growth. Amazon's encroachment into key categories is another worry.
"Retail stocks have been on a roller coaster ride," Scot Ciccarelli, an analyst at RBC Capital, said in a note. "The combination of tariffs, cost pressures and rising interest rates are causing angst for investors."
Retailers that can navigate these choppier waters stand to win big this holiday season. At stake is as much as $100 billion in sales that are up for grabs in the wake of Sears Holdings Corp.'s bankruptcy and the demise of Toys "R" Us and other chains. Target and Walmart are picking up more than their fair share of those customers with expanded toy departments and early-bird discounts, but it's all coming at a cost to their bottom lines.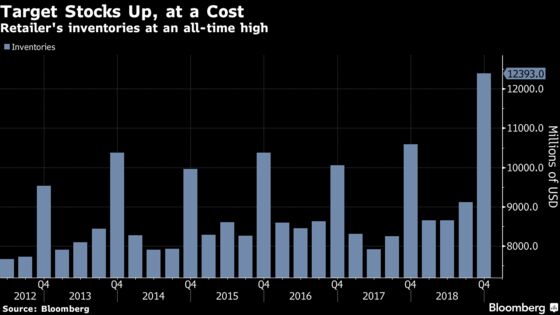 A big culprit is online sales, which carry heavy fulfillment costs that can be compounded when retailers dangle enticements like free shipping. Recent moves by Amazon and Target to eliminate minimum-purchase amounts for free shipping could force others to match them, wreaking havoc on profitability. Web orders with the free service included have risen 13 percent so far this year through Nov. 16, according to analytics firm DynamicAction.
About one-fifth of holiday spending will happen online this year, according to researcher Forrester, and with Amazon gobbling up about half of all e-commerce spending, the remaining retailers must fight over the scraps.
"As we enter this year's holiday season, not only are we up against our toughest sales comparisons from 2017, but we are also expecting another fiercely competitive retail environment," Ross Stores CEO Barbara Rentler said in a statement Tuesday. Off-price retailer Ross also posted better-than-expected same-store sales Tuesday but plunged after noting lower margins plus rising freight costs and wages.
The big bets Target and others are making on toys have also hurt profitability. Target's inventory rose 18 percent in the quarter, due in part to its buildup of key toys like Fingerlings, Hatchimals and L.O.L. Surprise. Inventories have also risen earlier than usual as this year has more shopping days between Thanksgiving and Christmas than is typical. Target said it was "comfortable" with its inventory levels.
Best Buy's inventory was also way up in the quarter, by 23 percent. "We do suspect it reflects an early build ahead of tariff increases," said RBC's Ciccarelli.