Target Expects a More Profitable 2021 After Its Sales Soar
(Bloomberg) -- Target Corp. said it expects wider 2021 margins than it had foreseen earlier this year, boosted by a shift in demand toward more profitable items like apparel and home decor. The shares rose.
The retailer said its full-year operating profit margin will be "well above" last year's 7% level, and possibly reach 8% or more. It also expects comparable-store sales to remain positive in the last two quarters of the year -- even though it will be facing very difficult comparisons with last year's pandemic-fueled boom. First-quarter sales growth, bolstered by a surge in in-store purchases, came in at more than double the estimate compiled by Bloomberg.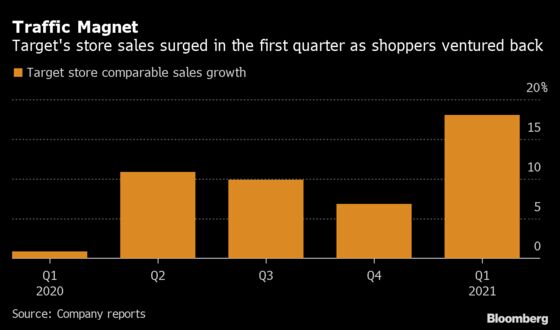 Chief Executive Officer Brian Cornell said in a statement Wednesday that the first quarter was "outstanding on every measure," and included more than $1 billion in market-share gains. "We're confident in continued comp growth in the second quarter and through the remainder of the year, as well as a healthy full-year operating margin rate."
Target wasn't as confident in March, when it said 2021 operating margins would be at the low end of a range between 6% and 7%. The rollout of vaccinations, along with federal stimulus checks, made the outlook rosier, Target executives said on a call with reporters.
"The guidance we gave last quarter was a wide range," Chief Financial Officer Michael Fiddelke said on the call. "We learned a lot as the quarter progressed and we saw the strength of the sales environment."
Target shares climbed 2.1% to $210.69 at 9:31 a.m. in New York on Wednesday. The stock had already gained 17% this year through Tuesday.
The results and raised guidance trumped Tuesday's report from rival Walmart Inc. and showed that Target remains in the upper echelon of the retail industry's pandemic-era winners. Cornell's acquisitions of e-commerce logistics providers and the use of stores as online fulfillment hubs has boosted digital sales -- which rose 50% on a comparable basis in the quarter -- while partnerships with brands like Ulta Beauty, Apple and Levi successfully lured shoppers back for repeat visits.
Target's own brands, which include Cat & Jack kids' clothes and All in Motion women's activewear, also did well, growing a record 36% in the period. Private labels carry wider profit margins, and also help offset price hikes by vendors due to input cost inflation.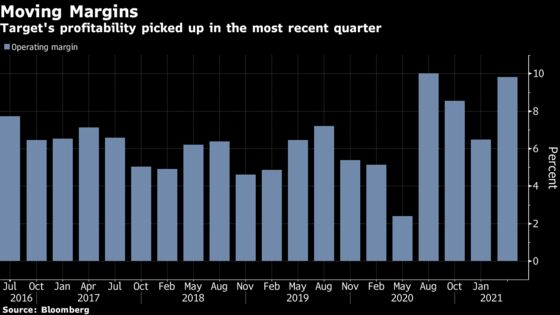 Target's Chief Financial Officer Michael Fiddelke said he saw "pockets of pressure" from inflation, and analysts might learn more on a call to discuss results this morning.
As shoppers shift spending from food and essentials to dresses, travel gear and items for home entertaining, Target is poised to grab even more sales and market share. In the first quarter, apparel sales rose more than 60%, home goods were up about 35% and items like appliances and sporting goods increased more than 30%. By comparison, Walmart's sales of general merchandise items rose more than 20%.
Chief Growth Officer Christina Hennington said customers are focusing on "style and mobility" as they venture out of their homes for work, school and social occasions. That's led to a pickup in sales of dresses, cosmetics, luggage, sporting goods and activewear. She also said Target is planning for one of its biggest back-to-school shopping seasons ever, but declined to provide details on any specific initiatives around that.
"On the back of this strong quarterly result, the next challenge for Target is retaining its market share gains," said Hilding Anderson, head of retail strategy for North America at digital consultant Publicis Sapient. "It remains to be seen whether the consumers who relied so heavily on Target throughout the pandemic will stick around for the long-term."
Target expects that they will, adding that second-quarter comparable sales should increase at a mid-to-high single digit pace, while operating margins in the period will also be "well above" the year-ago figure of 7.2%.
The company also reported more growth in the use of services like curbside and in-store pickup for online orders, with "same-day services" surging more than 90%. This is proof the habits that Americans picked up during the long pandemic -- more e-commerce and new services like curbside pickup -- are getting more deeply rooted in shoppers' preferences.
While e-commerce has trimmed profitability for many retailers, Target has managed to shave the costs associated with fulfilling online orders by using its stores as mini-warehouses and focusing on store pickup. More efficient same-day delivery routes using software from Deliv, which Target acquired last year, have also helped.
On the company's call with analysts, Cornell said Target hasn't had issues finding staff -- a departure from many retailers that have reported trouble keeping workers on board. He attributed that to the company's $15 per hour starting wage, while Chief Operating Officer John Mulligan said Target has invested in training and employee turnover is "down significantly" from last year.