Target Soars After Rosy Full-Year Outlook Follows Brisk Holiday
(Bloomberg) -- Target Corp. jumped the most in more than two months as it followed up strong holiday sales with upbeat projections for the current year, distancing itself from the travails of mall-based department stores.
Profit this fiscal year will be $5.75 to $6.05 a share, above analysts' average estimate, while comparable sales will increase by a low- to mid-single-digit percentage, the company said Tuesday. The shares climbed as much as 5.3 percent to $76.50 on Tuesday.
The cheap-chic retailer has regained its footing by remodeling hundreds of stores, introducing about 25 new private brands and expanding its online capabilities. That's allowed Target to keep pace with bigger rival Walmart Inc. while at the same time outperforming department-store chains like J.C. Penney Co. and Macy's Inc., which have suffered from Amazon.com Inc.'s onslaught.
Macy's just unveiled a fresh round of cost cuts amid slowing growth, while J.C. Penney poached a merchandising executive from Target to revive its apparel business.
Target's efforts "are helping it compete with the likes of Walmart in terms of prices, the department stores in terms of merchandising, and Amazon in terms of same-day delivery," Telsey Advisory Group analyst Joe Feldman said in a note published before the results.
The company had previously reported holiday sales, so all eyes were on Target's bottom line to gauge the impact that its free-shipping offers and other promotions had on profitability. Gross margins for the fourth quarter were 25.7 percent, just missing estimates. The heavy cost of online shipping is to blame, even as the company pushed for more in-store pickup of digital orders. Margins were also weighed down by a greater proportion of holiday sales coming from less profitable categories like toys and baby products.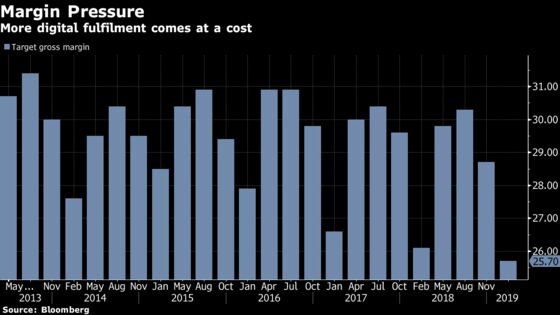 Target shares the earnings spotlight today with Kohl's Corp., which also impressed analysts with sales that topped estimates and a bright full-year outlook. Kohl's has seen its customer traffic increase thanks to a partnership that allows shoppers to return Amazon orders in its stores, with the hope that they'll pick up an item or two on the way out.
Target Chief Executive Officer Brian Cornell will detail his strategy for the year to analysts and investors at a presentation in New York this morning. Analysts would like to hear more about the grocery business, which makes up about one-quarter of total sales and could stand to improve. Target just named a new head of that unit.
"It will be important to hear how Target expects to maintain its momentum," UBS analyst Michael Lasser said in a note.
What Bloomberg Intelligence Says
"Target's customers are responding to store renovations, new private-label brands and an ever-expanding digital and delivery platform. Investments to evolve and support Target's competitive standing are positioning the retailer for longer-term sustainable growth."
-Jennifer Bartashus, North America retail analyst
-Click here to read the research
One thing to watch for will be comments on the consumer environment, which last year was possibly the strongest Cornell had ever seen. That optimism will be tested in 2019 as some tailwinds dissipate while labor and digital investments eat into profits. Target raised its starting minimum wage to $12 an hour last year, one dollar more than what Walmart offers, and has said it will move to $15 next year.
It also now offers curbside pickup of online orders at almost 1,000 stores, up from just 50 at the start of last year.
While those initiatives could pressure profits going forward, for now they're "clearly bearing fruit," Moody's analyst Charlie O'Shea said.