Target Analysts Brace for New Margin Pain While Awaiting Its End
(Bloomberg) -- Target Corp. analysts expect to see another quarter of shrinking gross margins when the company reports earnings Tuesday.
The retailer's investments into its business and rising shipping and wage costs have resulted in a year-over-year margin contraction for the each of the past nine quarters, according to data compiled by Bloomberg. This is a trend analysts expect to continue for one more quarter before reversing in the first quarter of fiscal 2020.
Concerns around profitability have contributed to the stock's underperformance versus Walmart Inc. and Amazon.com Inc. over the past 12 months. Target's per-share earnings have also missed estimates in three of the last four quarters.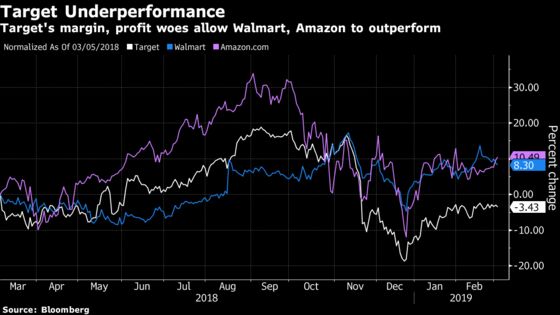 While analysts are expecting strong comparable sales for the holiday quarter given the 5.7 percent advance already reported for the November-December period, all eyes will be on gross margin. That will be key in gauging whether Target can achieve its fiscal 2020 profitability targets, which are expected to be unveiled Tuesday.
Target's Solid Holiday Comps. Come at Margin Cost, Analysts Say
Here's what analysts have to say about the quarterly report and year forecasts:
Morgan Stanley, Simeon Gutman
"We already know 4Q comps were strong (5.7% through December vs. ~5% guide). Gross margin performance will be critical."
Margin performance will "shed light on the ongoing level of margin dilution caused by TGT's e-commerce mix shift, and will provide a glimpse of the cost of sustaining a high level of top-line growth against increasingly tougher compares" in the new year
Expects TGT to guide to flattish EBIT margins for fiscal 2020, but the outlook will depend in part on gross margin performance in 4Q FY19

Thinks year guidance may include 10-20 bps gross margin contraction, offset by an equal amount of SG&A leverage (rising wages pose a significant headwind to potential SG&A leverage)
Gross margin contraction of >50 bps (MS estimates ~90 bps) in 4Q "would cast doubt on a flat" margin outlook

Rates underweight, price target $60
Credit Suisse, Seth Sigman
Prospects of stabilizing profitability amid investment leverage has eluded Target to date, "and will be a key focus tomorrow as the market debates the path to 'profitable growth'"
Target has been able to post better comp. growth versus peers and 4Q "should show the widest gap to date"
Assumes year forecast will include low-single digit comps and margins "flat to down slightly"; "believability" will depend on 4Q margins
Given wage pressure and growing online penetration, it will also require either lower investments, more efficiencies in digital fulfillment, or other cost offsets
Rates outperform, price target $79
What Bloomberg Intelligence is saying:

"Target should be able to sustain momentum from a strong holiday season into 1Q as investments in store updates, private brands, competitive pricing and new services resonate with customers."

"Online sales continue to grow, aided by improved operations. Same-store-sales growth stemming from traffic, and not average transaction amount, should help Target achieve sustainable profit gains" in the new year.

During the investor day, "an update on strategy, store remodels, supply-chain improvements, additional price investments and long-term guidance is expected."
-- Jennifer Bartashus, senior retail analyst
-- Click here for the research

Quo Vadis Capital, John Zolidis
Full-quarter comp. sales estimate assumes that January was "less great" than the 5.7% comp. growth reported for the Nov.-Dec. period
2 big questions for Target:

"The first is whether the company has put in place a sustainable strategy to both take share from failing competitors and simultaneously fend off Amazon & Walmart"

Zolidis thinks, "yes" -- view is supported by the 5%+ comp. in fiscal 2019, driven by a combination of in-store and digital-connected traffic

Second question rests on potential margin structure

TGT missed margin forecasts in 3Q, which took shares down 11% on the day; for 4Q, Zolidis believes margin outlook is better as the company shifted some inventory related costs into 3Q and aside from toys and electronics, the discretionary categories that drive sales over the holidays typically carry better margins
However, digital sale fulfillment costs hurt COGS; the Street is looking for ~20 bps of gross margin contraction in 4Q, which would be "a big improvement" over 3Q's 93 bps decline

Further out, TGT faces some EBIT margin pressures, but expects guide to be for "flattish" margins in the future and over the long-term
Thinks TGT will be bullish with its FY20 outlook, coming off its best year for comp. sales in more than a decade
4Q adjusted EPS estimate $1.53 (range $1.43 to $1.66)
4Q sales estimate $22.95 billion (range $22.45 billion to $23.57 billion)
4Q comparable sales estimate up 5.1% (Consensus Metrix, average of 18)
4Q gross margin estimate 25.97% vs 26.23% y/y
1Q adjusted EPS estimate $1.43 (range $1.37 to $1.49)
Next FY adjusted EPS estimate $5.64 (range $5.24 to $6.15)
10 buys, 16 holds, 1 sell; average price target $82 (12% upside from current price)
Implied 1-day share move following earnings: 6.1%
Shares fell after 7 of prior 12 earnings announcements
Adjusted EPS beat estimates in 7 of past 12 quarters
Shares down 3% in past 12 months vs SPX Index up 3%
Watch for quarter dividend boost: BDVD est. 64c per share, year ago reported 62c