Oil Tanker That Was a Symbol of U.S.-Iran Tension Slips Quietly Away
(Bloomberg) -- The supertanker that became the one of most visible symbols of tension between the U.S. and Iran when it was seized off Gibraltar in 2019 has slipped quietly out of the Mediterranean Sea.
The Very Large Crude Carrier, known at the time as Grace 1, was impounded by authorities in July 2019 as it sailed into territorial waters around the British Overseas Territory. It was alleged to be carrying about 2 million barrels of Iranian crude to Syria in breach of European Union sanctions on providing oil the regime of Bashar Al Assad.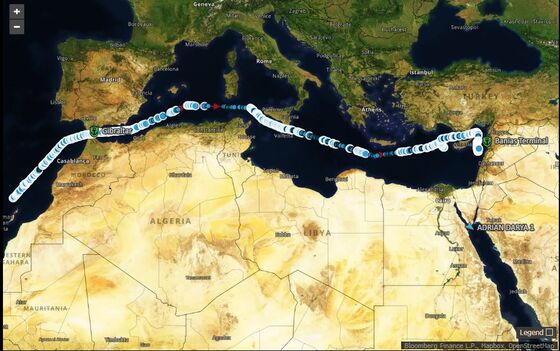 After signaling destinations in Greece and Turkey, the tanker anchored off Syria in early September, at which point signals from its automatic identification system stopped being received. Satellite imagery from Maxar, an information provider that uses space-based technology, subsequently appeared to show crude being transferred from the Adrian Darya 1 onto smaller Iranian-flagged vessels off the Syrian coast.
After more than 17 months, the ship, now called Arman 114, reappeared on tanker tracking screens off the Mediterranean coast of Egypt on Feb. 9 before passing through the Suez Canal and into the Red Sea. Its latest position signal was received as the vessel passed the Egyptian resort of Sharm el Sheikh on Feb. 11, bringing to an end the vessel's long Mediterranean stay.