Tampa Bay Rays Co-Owner Said to Back French Soccer Club Bid
(Bloomberg) -- Randy Frankel, one of the owners of Major League Baseball's Tampa Bay Rays, is among investors backing a bid for French soccer team AS Nancy Lorraine, people familiar with the matter said.
The Goldman Sachs Group Inc. alumnus teamed up with Paul Conway's Pacific Media Group LLC on its offer to take over the club, the people said, asking not to be identified discussing confidential information. A deal could value Nancy at about 9 million euros ($11 million), one of the people said.
Frankel is investing through Partners Path Capital, run by former Tampa Bay Rays executive Michael Kalt, the people said. Krishen Sud, the portfolio manager at Sivik Global Healthcare, is also involved in the bid, according to the people.
Wealthy U.S. investors have been seeking out bargains in European soccer clubs this year, drawn by the game's ever-increasing global reach and lower valuations. Earlier in November, Hollywood actors Ryan Reynolds and Rob McElhenney agreed to take over Welsh club Wrexham AFC, which sits in the fifth tier of U.K. soccer.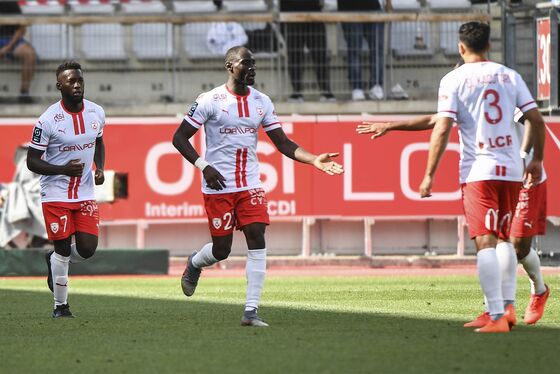 There's no certainty the discussions will lead to a deal for Nancy, and any transaction would require regulatory approval, the people said. Representatives for Nancy and the bidding group declined to comment.
Nancy competes in the second division of French soccer. Michel Platini, regarded as one of the country's greatest ever players and a former president of governing body UEFA, began his professional career at the club.
The Pacific Media consortium sees Nancy as appealing due to its historically strong performance, as well as its attractive location less than two hours' train ride from Paris, one of the people said. A deal would be a vote of confidence in French soccer at a time when the league remains embroiled in a contract dispute with Mediapro, its main broadcast partner.
Frankel and Kalt, through Partners Path Capital, previously teamed up with Pacific Media on its purchase of Belgian soccer team KV Oostende. Sud also joined that acquisition.
Pacific Media has been building a portfolio of soccer investments in Europe that already includes the U.K.'s Barnsley Football Club and Swiss team FC Thun. It hopes to announce further acquisitions in the Netherlands and Denmark in early 2021, according to a person with knowledge of the matter.
The group is a believer in the data-driven approach popularized by Billy Beane, the baseball executive featured in the 2003 book "Moneyball" who's now an investor in Barnsley. That strategy should sit well with Frankel, whose Tampa Bay Rays made the World Series this year despite having one of the lowest payrolls in the sport.
Owning multiple soccer teams has become a more common business model in recent years, with Abu Dhabi-backed City Football Group Ltd. now parent to 10 teams including Manchester City in the U.K. Energy drinks giant Red Bull GmbH has links to teams in Austria, Germany and the Americas.
Kalt previously worked in the New York City mayor's office during the administration of Michael Bloomberg, the founder and majority owner of Bloomberg News's parent company Bloomberg LP.