TalkTalk Agrees to $1.5 Billion Toscafund Take-Private Bid
(Bloomberg) -- TalkTalk Telecom Group Plc agreed to sell itself in a 1.1 billion pound ($1.5 billion) deal that will de-list the British telecommunications company.
Investment fund Toscafund Asset Management LLP and private equity firm Penta Capital have formed Tosca IOM to acquire TalkTalk for 97 pence-per-share. The deal is a 16% premium to TalkTalk's share price on Oct. 7, the day before the Salford, England based-company disclosed that it had received the offer, the companies said in a statement on Thursday. The offer is expected to go through in the first quarter of 2021.
TalkTalk had rejected a 135 pence-per-share approach from Toscafund last year, before canceled sporting events during the Covid-19 pandemic and fierce competition cut into revenue and caused shares to slide. The stock tumbled about 28% in 2020 before the October offer. However, TalkTalk's focus on offering low-cost connections may help it weather economic pressure.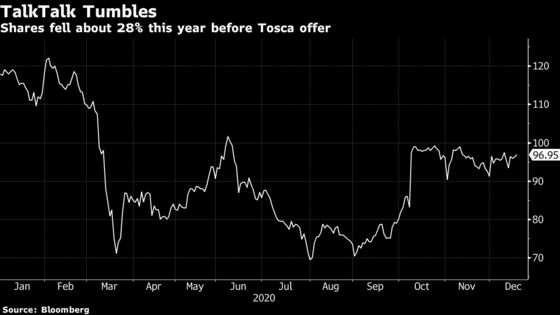 TalkTalk directors holding about 45% of the company's shares that are eligible to vote on the deal have agreed to the offer, Tosca said. That includes the company's largest shareholder, Chairman Charles Dunstone. However, the undertaking won't be binding if TalkTalk gets another offer of more than 115 pence-per-share.
"Being a private company would allow us to accelerate adoption and focus on our role as the affordable provider of fiber for businesses and consumers nationwide," Dunstone said in the statement. "The telecoms industry is going through a fundamental re-set and we are keen to play our part in it."
In addition, Toscafund already holds about 30% of the company's shares, according to data compiled by Bloomberg.
In a separate earnings statement, TalkTalk said it is withdrawing the current full-year earnings guidance and will not be providing updated formal guidance. Kate Ferry, chief financial officer, is also stepping down from the board of TalkTalk.
TalkTalk shares rose 2.9% to 99 pence at 8:40 a.m. in London trading on Thursday.