Takeover Targets Get Wiggle Room for Poison Pills in Pandemic
(Bloomberg) -- Vulnerable companies adopting so-called poison pills to thwart hostile takeovers and discounted stake purchases are getting a temporary reprieve from one of the sharpest critics of such shareholder rights plans.
Institutional Shareholder Services Inc., which advises investors on how they should vote on corporate matters, issued updated guidelines on such defensive measures as companies cope with plummeting share prices. ISS generally frowns upon poison pills adopted without a shareholder vote and lasting more than a year. It said in a report Wednesday, though, that some pills may be reasonable now in response to an active threat.
"A severe stock price decline as a result of the Covid-19 pandemic is likely to be considered valid justification in most cases for adopting a pill of less than one year in duration," ISS said in the report. "Boards should provide detailed disclosure regarding their choice of duration, or on any decisions to delay or avoid putting plans to a shareholder vote beyond that period."
The updated guidance comes after ISS warned last month against the widespread adoption of such tactics and that "an effective response to the pandemic could be more advantageous than any pill."
U.S. companies are adopting poison pills at a pace not seen since the 2008 financial crisis. Nine Russell 3000 members added the takeover defense provision in the first quarter alone, more than any other full year since 2016. Companies that have adopted poison pills include Hexcel Corp., Woodward Inc., Dave and Buster's Entertainment inc., CommVault Systems Inc. and Tempur Sealy International Inc. The tactic generally allows investors to buy additional shares should a potential bidder or activist buy a stake in the company above a certain threshold, generally between 5% and 20%.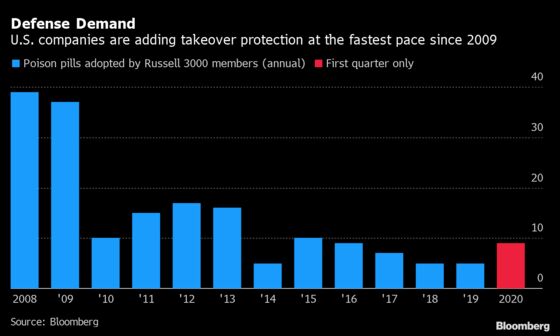 Sabastian V. Niles, a partner at the law firm Wachtell, Lipton, Rosen & Katz who specializes in shareholder activism, takeover defense and mergers and acquisitions, welcomed the move by ISS. He noted that the report recognizes that the threat of "abusive bidders" is real and that tailored rights plans can strike the right balance without overreaching.
"The ISS guidance also confirms our view that company-specific circumstances and evidence of emerging or present threats provide the most favorable case for decisive action," Niles said. "The ISS guidance should not, however, be construed as a blank check for all companies to rush or race to adopt a rights plan prematurely -- with pills, timing and context are everything."
Niles said he expects the threats from activists and takeover raids to intensify once the crisis has passed and the effect on companies and sectors becomes more clear. Those parties now view companies as "defenseless, destabilized and distracted," he said.
ISS is taking each instance on a case by case basis, and there's no guarantee it will support a rights plan, as evidenced by its recommendation this week that shareholders not re-elect the chairman of Williams Cos. after he oversaw the implementation of a pill last month that limited purchases to 5%.
Stephen Bergstrom, the pipeline company's chairman, said at the time the pill was implemented that it was in the best interest of shareholders to prevent those seeking "only short-term gains" from taking advantage of the share price declines.
ISS said in its report on Williams: "The board's adoption of a poison pill with a 5% trigger is problematic, as it is highly restrictive and could negatively impact the market for the company's shares as the market recovers."