Takeda Downgraded by Moody's on Lofty Debt After Shire Deal
(Bloomberg) -- Takeda Pharmaceutical Co.'s credit rating was cut by Moody's Investors Service, which cited the drugmakers' ballooning debt level following its $62 billion acquisition of Shire Plc.
Moody's cut Takeda's credit rating three notches to Baa2 from A2, according to a statement Monday. That's still investment grade, and Moody's said the outlook is stable based on expectations that Takeda will reduce its leverage through cost synergies and growth from key products.
Shire investors weren't encouraged by the move, as the stock dropped as much as 2.1 percent in early trading in London on Monday.
The downgrade to the rating, which is now two notches above junk status, was expected. Moody's, as well as other ratings agencies, had put Takeda on watch for possible cuts since the agreement to acquire Shire was announced in May. Takeda Chief Executive Officer Christophe Weber said at that time he expected the company's credit score to be lowered, but remain investment grade.
"This transformative acquisition will cause Takeda's debt to increase almost six-fold, making the company one of the most leveraged pharmaceutical companies rated investment grade," Moody's analyst Yukiko Asanuma said in a statement.
Takeda, which succeeded in winning shareholder approval for its biggest deal ever earlier this month, will take on around $30 billion in new borrowing as well as Shire's existing $13.7 billion of debt in the acquisition. The deal will increase its net debt-to-earnings ratio to around five times earnings, compared to the global industry average of one.
"We are very confident that we will deleverage to our target net debt-to-Ebitda ratio of two times within three to five years, and will remain investment grade," a company spokeswoman said Monday.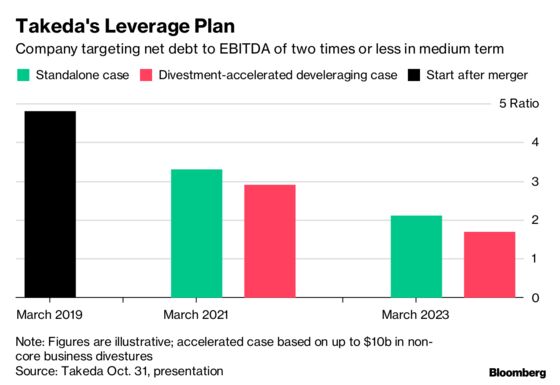 Takeda has laid out a potential debt reduction scenario of divesting around $10 billion in non-core assets.
Moody's noted that Takeda faces risks in successfully disposing of enough assets and integrating Shire to realize the expected cost synergies. It also said the Shire deal holds benefits for Takeda, giving it a bigger footprint in the U.S. and stronger cash flow from the rare diseases businesses.