Take-Two Surges as Red Dead Success Puts Investor Fears to Rest
(Bloomberg) -- Take-Two Interactive Software Inc. soared 9 percent after initial sales of its Red Dead Redemption 2 video game topped analyst estimates.
The company on Tuesday reported more than $725 million in global retail sell-through in the first three days, blowing past Piper Jaffray's projections of $400 million to $500 million. The game is the second-highest grossing entertainment launch ever, trailing only Take-Two's Grand Theft Auto V in 2013. The strong debut should bolster investor confidence after the shares had stumbled on disappointing sales of Activision Blizzard Inc.'s Call of Duty: Black Ops 4 earlier this month.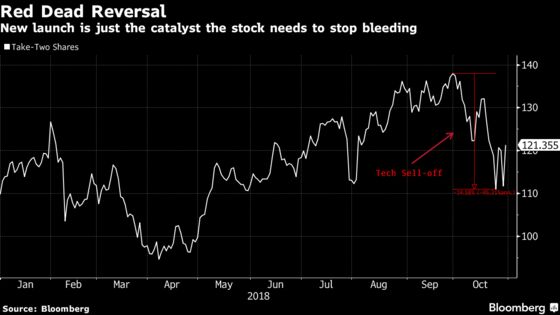 Baird analyst Colin Sebastian said the new Take-Two game was expected to be in the No. 2 slot behind the new Call of Duty. Activision saw only $500 million in sales during its launch weekend. Bloomberg Intelligence analyst Matthew Kanterman said Red Dead's early success reinforces his belief that Take-Two is poised for record cash flow growth this year that will probably exceed analyst estimates.