Taiwan to Tolerate Stronger Currency, Inflation: Decision Guide
(Bloomberg) -- Taiwan's central bank will need to grapple with a number of new risks when it decides interest rates Thursday, including faster inflation, a sudden Covid-19 outbreak and its currency hovering at a 24-year high.
The central bank is expected to keep its benchmark lending rate unchanged at a record low of 1.125%, according to all of the 26 economists surveyed by Bloomberg. That would give policy makers room to support the economy as it recovers from the latest virus outbreak while also avoiding driving up the currency further and hurting exporters' profits.
At the same time, the bank is likely to tolerate a stronger Taiwan dollar, as its appreciation at a moderate pace can help offset some of the inflationary impact of surging raw material prices.
Here's a look at some of the issues faced by the bank in its quarterly policy decision:
Inflation is set to accelerate this year, driven by the worst drought in history and surging global commodity prices. A severe lack of rainfall since last summer has damaged farming output and contributed to the hottest consumer price inflation in more than eight years in May. Meanwhile, manufacturers are raising prices at the fastest rate on record in the month, to protect their margins from higher raw material costs, according to the latest manufacturing purchasing managers survey.
"There's a high chance that agriculture product prices could rise by 10% to 20% in years of water shortage, and this will drive Taiwan's overall inflation higher," said Gary Ng, an economist at Natixis, in a phone interview.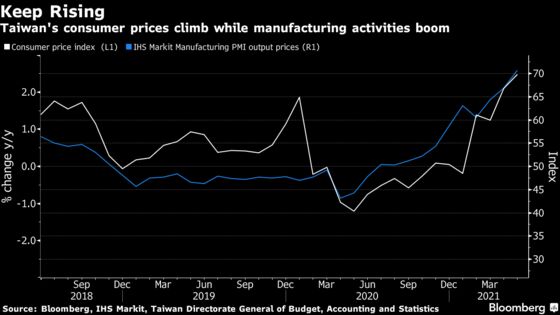 If the water shortage continues, Natixis could raise its inflation forecast to between 1.7% and 2% this year from 1.3% previously, Ng said. A 2% increase would represent the highest level of inflation since 2008.
Liu Chengyu, an economist at First Capital Management Inc., now projects inflation to hit between 1.3% and 1.5%, compared with 1.2% before. Economists surveyed by Bloomberg predict consumer-price growth of 1.5% for this year and 1.3% for 2022.
The central bank intervenes in the foreign exchange market to limit gains in the Taiwan dollar in order to keep exports competitive in the trade-reliant economy. However, with the Federal Reserve remaining dovish and an export boom boosting Taiwan's current account surplus, foreign investors have poured cash into the island's financial markets, pushing up the local dollar by 2.3% this year, the best-performing Asian currency against the U.S. dollar.
Woods Chen, chief economist at Yuanta Securities Invest Consulting, said the central bank will probably tolerate the currency's gains. A stronger Taiwan dollar means lower costs of imported equipment and raw materials for manufacturers in the electronics industry looking to expand their production capacity. At the same time, companies typically increase their labor productivity by about 2.5% a year, which could counter the impact from the strengthening currency, Chen said.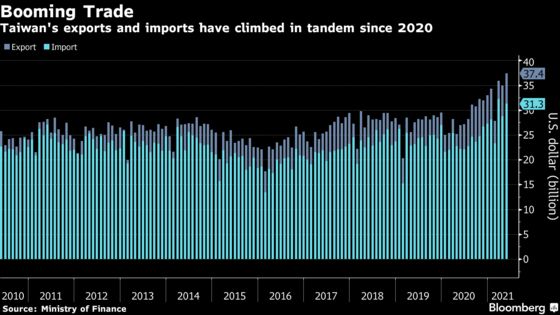 If the currency outperforms other Asia currencies too much, the monetary authority will still choose to step in to curb its rally, said Chen.
To avoid placing further pressure on the Taiwan dollar to appreciate, the central bank will have to wait for other major global monetary authorities like the Fed to normalize policy first before taking any action to hike interest rates, said Johnny Chiang, an economist at Masterlink Securities Investment Advisory Corp.
The benchmark rate is expected to be kept unchanged by the end of this year, according to all 22 economists polled by Bloomberg. A rate hike could come the earliest in the third quarter of 2022, according to the median estimate of 15 economists in a separate survey.