Taiwan Stronger-Than-Expected Trade Bolsters Asia Export Rebound
(Bloomberg) -- Taiwan exports surged at their fastest pace since February as a resurgence in demand for traditional manufacturing goods added to already strong shipments for high-tech products.
Exports increased 12% last month to almost $32 billion in November, the second-highest monthly total on record after October's record, according to a statement from Taiwan's Ministry of Finance Monday. Economists had forecast shipments would increase by 8.8%
Imports jumped 10%, their first increase since August, compared to the median economist forecast of 0.3%. Taiwan's trade surplus narrowed to $5.3 billion.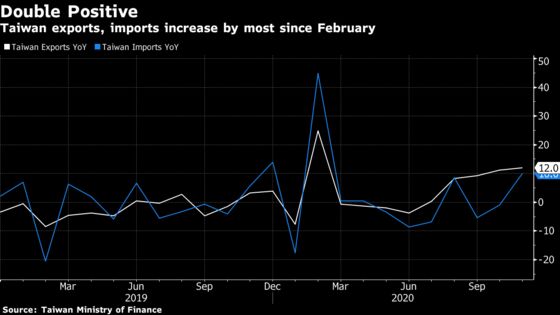 Exports of plastic and rubber articles rose 11% in November; electronic parts increased 19.5%, information and communication products gained 18.5%.
The finance ministry forecasts exports this month will gain between 7% and 9%.
Taiwan's surging currency appears to have done little to temper shipments. The Taiwan dollar traded close to its strongest level against the U.S. dollar in 23 years on Monday as the central bank eased its grip on the currency. The monetary authority has come under greater scrutiny over its actions in foreign exchange markets.
Demand from China and the U.S have been the main drivers of Taiwan export rebound in the second half of the year. Exports to the U.S. are likely to continue their strong growth, Finance Minister Su Jain-rong told Bloomberg in an exclusive interview last month, contributing to better-than-expected economic growth this year.
Taiwan's data mirrors the continued rebound in shipments across Asia's other exporting powerhouses. Chinese exports surged 21.1% in November, the most since early 2018, as year-end demand surged, pushing the trade surplus to a monthly record.
South Korean exports rose 4% in November from a year earlier, supported by robust demand for tech devices and gains in key markets.
Stronger-than-expected international demand for technology products prompted Taiwan's government to raise its forecast for growth this year to 2.5%.