China's Found the Perfect Patsy to Tackle U.S. Chipmakers
(Bloomberg Opinion) -- It's not hard to work out who's being played here.
Taiwan's United Microelectronics Corp. won a patent case it brought against Boise, Idaho-based Micron Technology Inc. in a Chinese court. So on the surface, this poor little Taiwanese David defeats the big bad American Goliath. The Chinese court even ordered that Micron chips be halted from import or sale in Asia's biggest economy, according to UMC.
Micron stock fell as much as 8 percent, while UMC climbed as much as 3.9 percent in early Taipei trading Wednesday.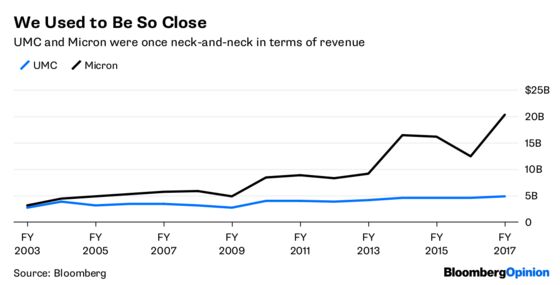 UMC is turning out to be the perfect patsy in China's ongoing campaign to stick it to the U.S. over technology, intellectual property and trade. In its Fuzhou Intermediate People's Court filing, it sought 270 million yuan ($41 million) in damages. I think that's a smokescreen.
Micron's U.S. case in fact sprang from an August criminal indictment in Taiwan against UMC and its partner Fujian Jinhua Integrated Circuit Co.
Taiwanese prosecutors alleged that UMC employees were part of a plan to misappropriate IP from an American company (Micron) and deliver it to China (via Jinhua). In its December civil complaint, Micron accused UMC of trying to recruit key Taiwanese personnel, and induce former Micron Taiwan staff to steal files that could be used to give little-known Jinhua a boost in China's campaign to develop its own chip technology.
A recent piece in the New York Times details the heist, which includes a police raid and a junior colleague spiriting a phone out of a factory as authorities closed in.
That a Chinese court suddenly finds in favor of UMC and Jinhua, with a threat to stop all import and sale of Micron's chips, completes the cycle of absurdity.
In the context that China and Taiwan aren't friends, and Beijing has long had its eye on Taiwanese technology, it's worth noting that UMC was spun out of a Taiwan government think tank. It's also worth recalling that UMC has fallen foul of Taiwanese law before with its China dealings: In the early 2000s it was caught investing in a Chinese chipmaker, which at the time was prohibited.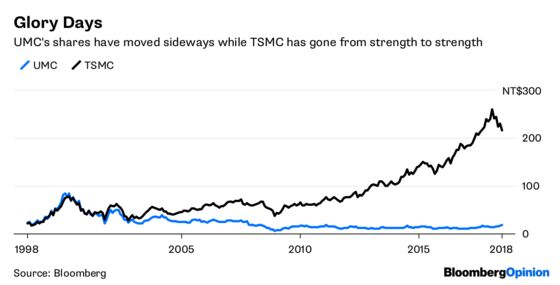 UMC was once neck-and-neck with Taiwan Semiconductor Manufacturing Co. before UMC dropped the ball and TSMC went on to dominate the global chip foundry market. That's forced UMC to find business wherever it can, and do deals TSMC might not touch.
It's fortunate, then, that UMC has Beijing's Made in China 2025 policy, and favorable Chinese courts, to help it out.