Lawmakers Tell T-Mobile, Sprint Chiefs That Deal Raises Red Flags
(Bloomberg) -- Lawmakers criticized T-Mobile US Inc.'s proposed $26.5 billion purchase of Sprint Corp. as company leaders -- and the deal -- faced a new Democratic-led House.
The merger would bring market concentration to "a level that raises lots of red flags," said Representative Mike Doyle, the Pennsylvania Democrat who's chairman of the House communications subcommittee, during the hearing Wednesday on Capitol Hill. He cited the prospect of higher prices and less competition if the deal gets regulatory approval.
The session was the panel's first on a merger in almost nine years, and lawmakers have a duty to inspect transactions, said Doyle, who gained the chair after Democrats won a majority in the chamber in November's elections.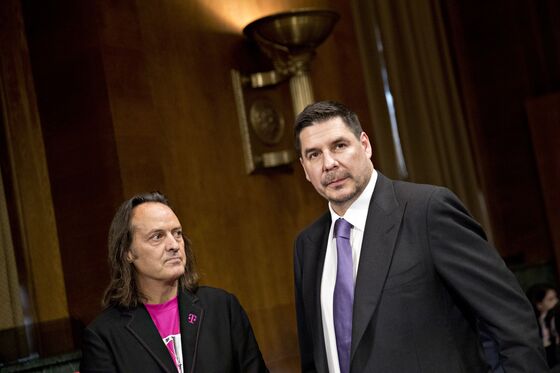 T-Mobile Chief Executive Officer John Legere and Sprint Executive Chairman Marcelo Claure appeared before the panel to defend the deal proposed in April. It would combine the U.S.'s No. 3 and No. 4 wireless carriers.
Many lawmakers focused on potential harm to low-income consumers who are customers of the two wireless carriers. Legere touted Sprint and T-Mobile's service to many poor consumers. "Which is why we're worried about the merger," said Representative Jerry McNerney, a California Democrat.
"I'm worried that many of the constituents that I have will be priced out," he said.
The companies say the merger would forge a stronger competitor to market leaders AT&T Inc. and Verizon Communications Inc.
Representative Anna Eshoo, another Democrat from California, said she supported the merger because it will give T-Mobile the resources to compete more effectively against AT&T and Verizon. The argument that competition will be harmed from combining the carriers "just doesn't make sense."
"Why would someone buy and then sit on their oars and not try to attract new customers," she said.
What Bloomberg Intelligence Says
"A deal termination could push Sprint bonds much wider as the company would be challenged by a large debt load and negative free cash flow. Reflecting that elevated deal risk, the spread gap between Sprint and T-Mobile US bonds is near the widest level over the past year and the take-out premium for Sprint stock has risen to more than 16%."


-- Stephen Flynn, telecom credit analyst
Click here to review the research.
Legere wore a T-shirt in T-Mobile's magenta color as he testified, and identified building advanced 5G networks as a benefit of the merger.
"Our opponents are wrong when they claim the merger will lead to higher prices," Legere said. He said the deal "can ensure U.S. leadership in 5G, increase competition and create American jobs."
"I want to be very clear, in any which way you'd like to ask it: prices will go down," Legere said. He said a steady-price pledge offered to the FCC "was not in response to a negative review process" but "an attempt to add another layer in addition to to my business plan."
Legere last week promised that T-Mobile won't raise rates after buying Sprint, offering consumers the same or better plans for three years. Analysts and deal opponents said the pledge might be a sign that the company has run into concerns from regulators that the merger will reduce competition and lead to more expensive bills.
Members of Congress don't directly decide mergers, but they influence regulators that can approve or reject deals. T-Mobile's deal is before the Justice Department and the Federal Communications Commission.
Several Republicans asked about possible benefits of the merger.
Representative Greg Walden, an Oregon Republican, questioned whether it's necessary to retain four nationwide competitors.
"We need to take a holistic view, instead of focusing on a particular metric," Walden said. "We have to consider scale and operational efficiencies."
Walden is the former chairman of the Energy & Commerce Committee that houses the communications panel. He said that in years past, the panel had "generally avoided hearings focused on any specific transaction" to keep regulators "free from intense political influence."
Chris Shelton, the president of the Communications Workers of America, disputed Legere's claim that the merger would raise employment, and said retail stores closed after an earlier T-Mobile acquisition. Trusting T-Mobile with jobs, Shelton said, is like "trusting a vampire at a blood bank." The union has a long history of disputes with T-Mobile, saying it has violated federal labor laws.
"Let's tell like it like it is: This merge would kill American jobs and raise prices on American consumers to enrich two foreign companies," Shelton said, referring the parent companies of T-Mobile and Sprint.