T-Mobile's Legere to Defend Sprint Deal in Push for Approval
(Bloomberg) -- T-Mobile US Inc. Chief Executive Officer John Legere heads to Capitol Hill this week to defend his proposed takeover of Sprint Corp., as doubts about the deal grow on Wall Street and opponents say it will raise monthly bills.
Legere is set to appear Wednesday before a House panel about the $26.5 billion tie-up, which would unite the No. 3 and 4 U.S. mobile carriers, sparking fears of higher prices as competition is lost. Sprint and T-Mobile say the merger will make a stronger rival of leading providers AT&T Inc. and Verizon Communications Inc.
The hearing before a panel of the House Energy Committee is shaping up to be a tougher test for Legere and Sprint Chairman Marcelo Claure than when they appeared before the Senate last year after the deal was announced. Since then, deal opponents, including Dish Network Corp., Altice USA Inc. and policy groups, have been able to refine their arguments against the merger and organize against it.
Nine Democratic senators on Tuesday asked U.S. regulators to oppose the deal, saying it will harm competition and raise prices.
A second hearing scheduled for Thursday before the House Judiciary Committee's antitrust panel was canceled and will be rescheduled, according to a spokesman for the chairman, David Cicilline, a Rhode Island Democrat.
Among the likely questions for Legere from Democrats is whether T-Mobile executives were seeking to curry favor with the Trump administration when they stayed at the Trump International Hotel in Washington as the deal was under review by the Federal Communications Commission and the Justice Department.
The Washington Post last week reported that T-Mobile executives booked at least 52 nights at the Trump hotel on Pennsylvania Avenue since last year, citing records obtained from the hotel.
Legere said in an interview last week that he was staying at the Mandarin Oriental, Washington, and then relocating to the Four Seasons Hotel. Sprint's Claure tweeted a picture of himself Monday in front of the St. Regis, two blocks from the White House.
"There's been some noise about visits like why did you go down to Washington right after the deal was announced," Legere said in the interview. "We wanted to start telling them we were proud of the deal and the benefits it would bring."
Showing he's made a break with the Trump hotel, on Sunday he told viewers of his YouTube cooking show his whereabouts: "I'm in Washington D.C., and I'm at the Mandarin Oriental hotel. Mandarin Oriental hotel. Get that, write that down. That could be pertinent information."
Investors are growing increasingly skeptical about the merger's chances of approval. The spread between T-Mobile's offer price for Sprint and Sprint's trading price, a measure of the market's view of the deal's prospects, has climbed since the end of December, hitting a high of $1.11 on Feb. 8. On Tuesday, Sprint rose 2.5 percent to $6.10 at 1:04 p.m. in New York, while T-Mobile rose 1.1 percent to $69.21.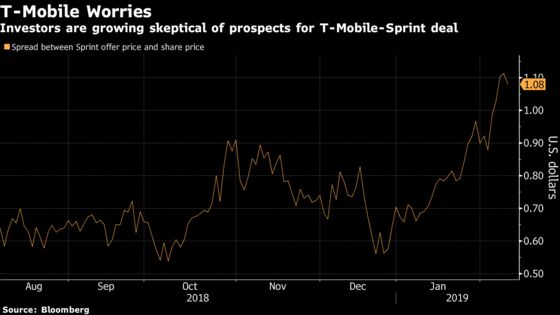 Legere said he intends to tell the House what he's been saying for months: that together, T-Mobile and Sprint will create a stronger third competitor to take on industry giants AT&T and Verizon. The centerpiece of their case is that they'll be more capable of building the next generation of wireless technology, known as 5G.
"Critics of our merger, largely employed by big telco and big cable, have principally argued that we are going to raise rates right after the merger closes," he said. "I want to reiterate unequivocally that prices will go down and customers will get more for less."
Democratic Senators Ask DOJ, FCC to Reject T-Mobile-Sprint Deal
Without apparent prompting, Legere last week promised that T-Mobile won't raise rates after buying Sprint, offering consumers the same or better plans for three years. Analysts and deal opponents say Legere's pledge might be a sign that the company has run into concerns from regulators that the merger will reduce competition and lead to more expensive bills. Otherwise, Legere wouldn't need to make the commitment, they say.
Antitrust enforcers at the Justice Department want competitive markets to keep prices in check, not promises from companies, said Blair Levin, an analyst at New Street Research.
"What does this tell you about whether the deal is going well or not?" he said. "With all due respect to the CEO, there's no scenario in which this is the deal is going well."
As the review has gone along, investors have warmed to the idea that an approval was likely, but the recent promise to hold prices might have been a bit of a surprise, said Amy Yong, an analyst with Macquarie.
"I don't think investors have thought through the full impact of the price freeze. It might take some time to get comfortable with it," Yong said.
Congress doesn't have a say over whether the merger is approved, though it oversees the agencies vetting the deal. States are also investigating the merger, including the attorneys general for New York and California. They could challenge the deal even if federal officials clear it.
T-Mobile's rate pledge, filed with the FCC on Feb. 4, came after Dish, which opposes the deal, said economists working for T-Mobile and Sprint have effectively acknowledged in their reports that the merger would lead to higher prices but justify the increase by saying consumers would pay more for better service. The analysis relies on subscribers being willing to pay a "disproportionately large amount of money for even an ounce of improvement in the quality" of their current service, according to Dish.
Legere denied the price commitment is a sign the deal is running into trouble.
"What bad conversation could be going on where you're clarifying the statement that you made that this is good for the country, it's good for the consumer, it's good for competition, jobs are going up, prices are going down, supply is going to increase and the nation's competitiveness in 5G is going to go up," he said. "So that's what it is and anybody who can glance in and try to find a negative of that, better go find some happy pills."
One set of economists for the companies said in a filing with the FCC that the deal would benefit competition in the wireless market starting in 2021 or 2022. That probably explains why Legere promised to keep rates from rising for three years, according to Allen Grunes, an antitrust lawyer representing the Communications Workers of America, which opposes the merger.
"T-Mobile's own economic model suggests that prices will go up over the next few years," Grunes said.