Syria Says U.S. Allies Won't Help With Reconstruction
(Bloomberg) -- Syria accused the U.S. of sabotaging improved ties with Arab nations that could be key to rebuilding the war-shattered country.
The U.S. has pressured allies to block Syria's reinstatement into the Arab League, President Bashar al-Assad's media adviser, Buthaina Shaaban, said in an interview Tuesday in Moscow. The restoration of Syria's suspended membership could be more than symbolic, potentially transforming Damascus's ties with the rest of the region and unlocking much-needed Gulf funding to rebuild after eight years of civil war.
U.S. Secretary of State Mike Pompeo "went to the Gulf states and sent someone to Lebanon in order to stop the normalization of relations with Syria," Shaaban said on the sidelines of a Middle East conference hosted by the Kremlin-backed Valdai Club. "It is an open secret really that the Americans are the ones who issued orders because they want to complete their agenda in Syria."
As Syria's war winds down, relations have been improving between Assad's government and some Arab countries. The United Arab Emirates and Bahrain reopened their embassies in Damascus in December. The Arab League is to meet in Tunisia in March, but readmitting Syria is not on the agenda. The league's secretary general, Ahmed Aboul Gheit, has said there was still no consensus.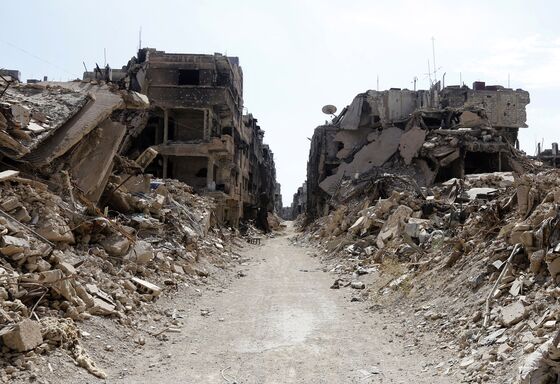 The Kremlin's military intervention in Syria since 2015 shored up Assad at a time when he was at risk of being overthrown in a rebellion backed by the U.S. and its allies. The United Nations estimates the cost of reconstruction in Syria at $250 billion, and the Syrian leadership can't count on significant financing from either of its two main supporters, Iran and Russia.
"Western countries do not want reconstruction to start in Syria but I think the Syrian people have started their reconstruction anyway," Shaaban said. "So we really depend on ourselves in this sense."
U.S. and European Union leaders say Assad is largely responsible for the deaths of hundreds of thousands of people during the war and stability is impossible under his rule.
Still, the top Syrian official voiced optimism that the country is on the verge of regaining full control of territory with the planned U.S. withdrawal from northeastern Syria and the expected military campaign against an enclave held by an al-Qaeda offshoot in the northwestern Idlib province.
"We are not only hopeful, we are determined that we will regain the sovereignty over our country," she said.
Assad, whose current term ends in 2021, "absolutely" has the right to run for re-election, said Shaaban, who criticized what she described as efforts by outside powers to impose political reforms, including a new constitution, under a UN-led process.