Syria Sanctions Bill in Senate Could Stall Over Shutdown Fight
(Bloomberg) -- An effort in the Senate to force President Donald Trump to impose new sanctions on Syria is getting caught up in the stalemate over the partial U.S. government shutdown as top Democrats said they'd move to block any legislation that doesn't reopen the government.
The Senate plans a procedural vote Tuesday on the Middle East policy package, which is co-sponsored by Majority Leader Mitch McConnell. It includes aid for Israel and a provision that would let state and local governments refuse to do business with anyone who boycotts Israel.
But Senate Minority Leader Chuck Schumer told fellow Democrats he will vote to block debate on the measure until McConnell agrees to take up House-passed bills to reopen the closed government departments, according to a senior Senate Democratic aide.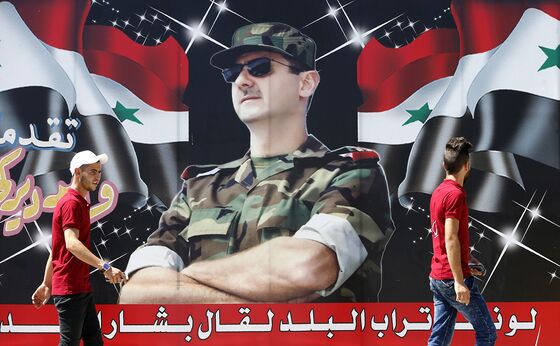 The other two ranking Senate Democrats, Dick Durbin and Patty Murray, along with several of their party colleagues in the chamber said Monday they'll also refuse to support advancing any legislation not related to reopening the government, although it's uncertain whether there would be enough to stall the Senate's work. Republicans will control the Senate 53-47, and 60 votes are required to move the legislation forward.
The measure, S.1 would direct the Trump administration to impose sanctions on entities doing business with the government of Syrian President Bashar al-Assad, such as selling petroleum products or aircraft parts. It follows the president's surprise announcement last month that he would withdraw U.S. forces from the conflict in the country.
"I anticipate this body will debate U.S. military strategy toward Syria in the coming weeks, as it conducts oversight over the administration's, apparently, ongoing review of its Syria policies," McConnell, a Kentucky Republican, said while voicing his support of the legislation last week.
A number of lawmakers, including prominent Senate Republicans, opposed Trump's December declaration of victory over the Islamic State in Syria and decision to withdraw U.S. troops. Senator Lindsey Graham, an ally of the president, initially said the move would be a "boost to ISIS," though after meeting with the president he said Trump "told me some things I didn't know that made me feel a lot better." Former Defense Secretary James Mattis resigned shortly after the announcement.
Since then, U.S. officials have added caveats and conditions to Trump's announcement that he would withdraw U.S. troops from the conflict. National Security Adviser John Bolton is in Turkey and was set to meet with officials Tuesday. He said Sunday that American forces would remain in Syria until Islamic State is defeated.
In the House, Representative Eliot Engel, a New York Democrat and chairman of the Foreign Affairs Committee, is pushing the Syria provisions as a separate bill. A Democratic committee aide said Engel expects to see House action on the bill soon.
The Senate legislation also would authorize at least $3.3 billion annually through fiscal year 2028 for security assistance for Israel and would reauthorize expedited defense sales to Jordan.
In addition, the package would let state and local governments pass measures limiting business with any company or individual engaging in boycott, divestment or sanctions activity directed at Israel or Israeli-controlled territories. A similar law enacted in Texas led to court challenges after a contract employee refused to sign an anti-boycott agreement.
Democratic Senator Dianne Feinstein of California said in a statement that while she supports Israel, she opposes the anti-boycott legislation as a violation of the Constitution's protection of free speech.
Maryland Democrat Senator Chris Van Hollen said in a tweet that Democrats "should block consideration of any bills unrelated to opening the government until Sen. Mitch McConnell and Senate Republicans allow a vote on the bipartisan bills the House passed to open the government."
Maryland's other senator, Ben Cardin, along with Virginia's two senators, Tim Kaine and Mark Warner were among the Democrats saying they also won't vote to move any measures unrelated to the shutdown, as did Kamala Harris of California and Cory Booker of New Jersey.