Sydney Airport Willing to Talk Sale as Investor Prods Board
(Bloomberg) -- Sydney Airport said it's prepared to hold discussions with suitors over a takeover offer of more than $16.8 billion as the company's largest shareholder agitated for negotiations to start.
The airport said Monday it's "open to engaging" with the bidders, led by IFM Investors, if they make an offer that reflects "long-term value." At the same time, Sydney Airport rejected a small sweetener from the group that boosted the newest proposal to A$22.8 billion ($16.8 billion).
Sydney Airport's willingness to talk comes as its biggest shareholder pushes the board to start discussions for a sale. UniSuper Ltd., which would fold its 15% stake into the take-private group, said the latest A$8.45-a-share bid, up from A$8.25, was "the basis for a reasonable negotiation."
After being hammered by coronavirus restrictions that have decimated airlines and tourism, Sydney Airport is clinging to hopes that vaccination rollouts around the world will allow global travel to resume. 
But the outlook has darkened since the airport rejected the suitors' first approach last month. Much of Australia has been thrust into lockdown as authorities struggle to contain a breakout of the delta variant. That's delaying any aviation recovery and increasing the financial pressure on Australia's biggest travel hub.
Unisuper Chief Investment Officer John Pearce said in an interview Monday that A$8.45 a share "is a fair price" and enough to warrant "limited due diligence and conduct further negotiations." Pearce said he'd made his views clear to Sydney Airport Chairman David Gonski late Sunday. 
Shares in Sydney Airport swung between gains and losses after the latest rejection. The stock was down 0.4% at A$7.72 in late afternoon trading.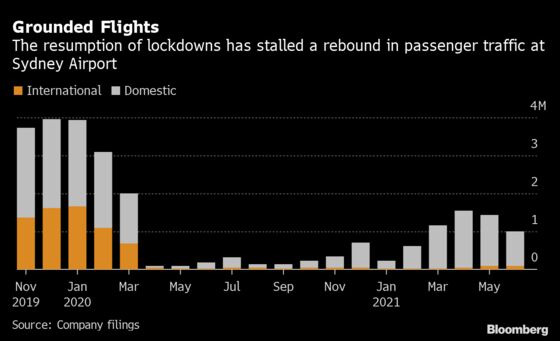 The Sydney Aviation Alliance, as the bidding consortium calls itself, said it's still trying to persuade Sydney Airport's board to support the sweetened offer. However, the group said the airport's lack of engagement so far and the immediate rejections of its two proposals suggest success is a long shot. 
"It appears unlikely that the parties can agree a path forward," it said in a statement.
Sydney Airport said the revised offer from suitors including IFM -- an infrastructure investor owned by 23 Australian pension funds -- was "opportunistic in light of the Covid-19 pandemic." It said an acceleration of Australia's inoculation program in recent weeks offered a pathway to a resumption of travel.
Global air travel, the profit engine of an overseas gateway like Sydney Airport, may not fully recover for years, according to the International Air Transport Association. 
The delta variant is now making the outlook even cloudier as it rages through key travel markets such as the U.K. and the U.S. Meanwhile, China's push to stamp out Covid-19 rather than tolerate the virus at some level means it's not clear to what degree global tourism will ever recover.
"The whole airport sector around the world has been heavily de-rated," UniSuper's Pearce said. "It's not just a matter of looking at the long-term value of Sydney Airport, but also what other options investors have."
Sydney Airport has been in the cross-hairs of the health crisis since Australia's government closed the international border in March 2020 and even barred its own citizens from leaving. The company swung to a A$145.6 million loss in 2020. 
AustralianSuper Pty, the nation's largest pension fund, has also joined the bidding consortium, according to Monday's statement.