Swiss Seen at Risk of Power Shortages, Labor Squeeze Without EU
(Bloomberg) -- Switzerland's reliance on the European Union for a steady stream of workers and supplies of electricity is set to increase, according to UBS Group AG, highlighting just two of the risks from the country's decision to end talks on a new treaty.
Economists Daniel Kalt and Alessandro Bee see demographics accentuating the labor market shortage, with a shortfall of nearly half a million jobs by 2040. Switzerland's decision to give up nuclear power and the move away from fossil fuels for transport is also likely to mean Switzerland will struggle to produce enough electricity.
"While Switzerland will become less reliant on the EU over the coming decades with regard to exports, the EU will remain significant. On the other hand, its dependency with regard to the supply of workers and power is likely to increase. This must be taken into consideration when structuring the economic relationship with the EU."

--UBS Outlook: "Does Switzerland Need the EU?"
Switzerland's relations with the EU took a hit this year when Bern decided to pull the plug on a draft agreement that would've affected practically all its relations with the bloc, which is its top destination for exports. The Swiss government said the two sides weren't able to bridge differences on its "key concerns" of state aid and wage protection.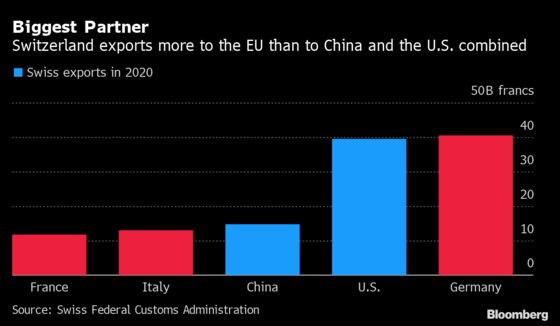 According to UBS, workers from the EU and the U.K. filled almost 60% of the jobs created in Switzerland since 2010. "This gap in the labor market will likely make it difficult for the Swiss economy to realize its potential," it said. Some businesses could even be forced to shift entire divisions to other countries in an extreme case.