Krona Shows Skepticism Riksbank Will Stick to Its Rate Guidance
(Bloomberg) -- The krona has had the worst start among major currencies this year as investors have cut bets that the Swedish central bank will raise borrowing costs later in the year.
That suggests the currency will rebound should Riksbank keep its rate path unchanged when it meets Wednesday, according to SEB AB and Swedbank AB. The krona has fallen more than 3 percent this year.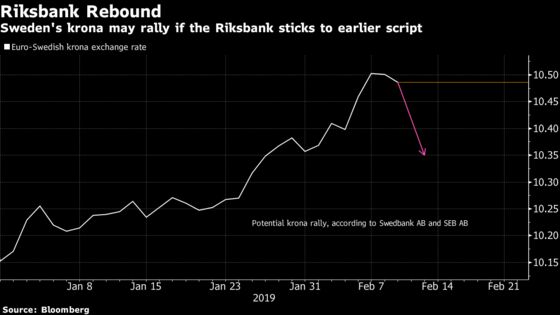 Below is a selection of analysts' views on the krona's outlook ahead of the Riksbank meeting:
SEB expects the Riksbank to stay on hold this week and sees the next hike in October, though risks are skewed toward a later hike, analysts Lina Fransson, Olle Holmgren and Karl Steiner say in a note
Sentiment toward the SEK indicates that the FX market might have turned more dovish on the Riksbank than the fixed income market and an unchanged message this week in combination with expectations for slightly better Swedish data can pull EUR/SEK back toward 10.30/10.35

Expect cross to subsequently move higher again with negative SEK seasonality (from mid-March)

A no-hike scenario this year would favor receiving red FRAs or buying shorter bonds, which will be supported by continued QE purchases
Nomura International Plc (Short NOK/SEK)
An overall bearish stance on the Swedish krona is already priced in. Nomura recommends adding a short NOK/SEK trade as oil prices don't validate the recent strength of the Norwegian krone, say strategists including Alina Zaytseva
The Riksbank may trim domestic and euro-area growth forecasts this week and lower the projected rate path slightly, but the market appears to have already priced that in and then some
The Riksbank is likely to still indicate a hike is due for the second half of 2019. Nomura maintains its medium-term bearish bias on the krona unless there are signs of a rebound in European growth
Nordea Bank Abp (No change is slight positive for krona)
No change in communication compared to December (Nordea's base case) should be seen as a slight SEK positive due to the gloomy sentiment that has been building up, Andreas Steno Larsen says in emailed comments
Any hint of pre-reinvestments of the government bond that matures in December 2020 bond would be a big blow for SEK
The need for FX intervention mandate has decreased since the last time it was extended in July 2018, and if it is prolonged anyway, it should limit the appetite to trade EUR/SEK lower than implied by the Riksbank's KIX forecast, currently implying a 10.25-10.30 range for EUR/SEK in 1Q
Current market pricing of the Riksbank is already dovish, but fair
The absence of Deputy Governor Per Jansson leaves a higher risk that they will not prolong the FX intervention mandate where an extension could be seen as a slight SEK negative
NOTE: Nordea expects no new signals at Riksbank's February meeting
Swedbank (Prefers buying dips in NOK/SEK)
A rate hike isn't likely until this fall at the earliest and next on the agenda is the central bank's balance sheet, where Swedbank doesn't see a decision until the April meeting, economists including Knut Hallberg say in a note
If the unchanged rate path is confirmed, EUR/SEK could come off a bit, perhaps down to around 10.35, depending on the level of risk aversion, strategist Anders Eklof says in a separate note

Still doesn't expect to see a bounce back in Swedish data over the next month or so, as the Swedish export sector is responsive to German weakness and households seem to have become more cautious

Prefers buying NOK/SEK on any dips toward 1.0550
Keeps EUR/SEK 3- to 6-month target of 10.00, but it's contingent on avoiding the "binary" risk from trade wars/Brexit
ING Groep NV (Riksbank may want to avoid weak krona)
The Riksbank is likely to mirror the slightly more dovish stance taken by the ECB and Bank of England over the past couple of weeks, acknowledging the deteriorating data but not shifting the policy stance materially, economist Jonas Goltermann says in a note
The krona seems a bit oversold after the past couple of weeks, so if Ingves makes some vaguely hawkish noises (or just not as dovish as the market expects) then maybe it will strengthen a bit
The current level of the exchange rate (whether looking at EUR/SEK or the KIX TWI) is close to the levels seen in May and September last year; on both those occasions the Riksbank came out with somewhat more hawkish communication, which appeared at least in part driven by a desire to keep the exchange rate from depreciating further
BBVA SA (Krona may be unmoved by dovish tilt)
The Riksbank may acknowledge the fact that the Swedish economy has gone into 2019 on a somewhat softer footing, while it may not be sufficient to lower substantially its repo rate path as inflation has held up well, above 2%, strategist Alexandre Dolci says in an emailed comment
It should reiterate that reinvestment of maturing bonds and coupons will continue as it's too early to start reducing the balance sheet
All in all the krona should in the end be barely moved by possibly even mild dovish tints, while the currency is already by far the worst performer in the G-10 FX space