Sweating His Path to a Billion-Dollar Fortune the Italian Way
(Bloomberg) -- Nerio Alessandri is moonlighting as the world's wealthiest -- and perhaps best dressed -- personal trainer.
Sporting a blue blazer and chinos, the billionaire founder and chief executive officer of Technogym SpA is demonstrating his company's top-of-the-line Kinesis Personal Vision machine, whose sleek combination of aluminum alloy arms, cables and polished steel panels allows users to perform more than 200 exercises.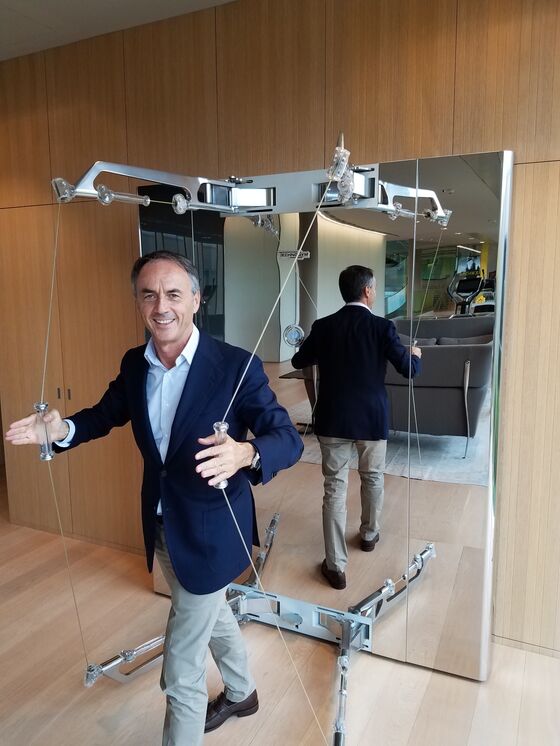 Alessandri, 57, makes it look easy. I'm quickly struggling against the resistance when I take hold of the handles and he instructs me how to manipulate the cables. A few bicep curls and chest presses later I beat a tactical retreat before my sweat drips onto the immaculate wood floor of Technogym's lobby-cum-showroom.
The company's gleaming headquarters in Cesena -- a city near the Adriatic Sea and about an hour's drive from Bologna -- reflects the world's booming healthy-living economy. Largely the preserve of bodybuilders in the 1980s, it's now part of mainstream culture, with boutique gyms, cycling studios and yoga classes an inescapable part of modern life.
It's big business. The fitness and mind-body industry was worth $542 billion in 2015, according to the Global Wellness Institute. Lululemon Athletica Inc. founder Chip Wilson now ranks among the world's 500 richest people, while startup Peloton Interactive Inc. has scored a $4 billion valuation thanks to the popularity of its internet-connected home-fitness equipment.
Alessandri is a godfather of this new economy.
"Technogym was a pioneer in combining technology and equipment to drive fitness performance to create a best-in-class branded product in a crowded equipment market," said Brian Wood, a managing director at Imperial Capital. "Peloton is absolutely an offshoot of what Technogym did."
Thirty-five years after he built his first piece of equipment -- a hack-squat machine -- in his father's garage, his focus on fitness has made him a billionaire. His stake in Technogym, whose shares have surged 46 percent in the past year, comprises about three quarters of his $1.3 billion fortune, according to the Bloomberg Billionaires Index.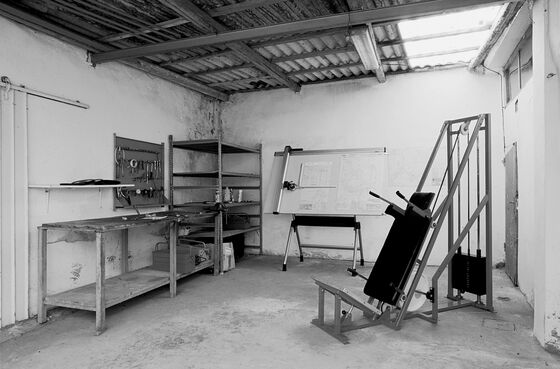 On Thursday, Technogym reported that revenue for the six months ended June 30 rose 8.3 percent from a year earlier at a constant exchange rate, helped by strong growth in the U.S. and China.
Still, Technogym can't afford to take a breather. There's a constant need to innovate to justify its premium prices, and new competitors abound. Peloton is moving into treadmills, Technogym's biggest product line. In an online world, the hottest workout products are as much about the content they provide and communities they host.
Alessandri says his company is well-positioned to prosper. Unlike Peloton, his products target a broad range of people, from Olympians to those who exercise only fitfully. And for years, Technogym has been building its own digital network. Today, about a quarter of the 40 million daily devotees of Technogym equipment use its mywellness platform, which connects them to their training programs and data.
That feeds into Alessandri's vision of the all-encompassing role Technogym's products should play in the lives of its customers. After introducing himself, he sits on one of the black and yellow exercise balls that serve as chairs in the company's glass meeting rooms and embarks on a six-minute monologue on fitness, lifestyle and technology.
"Wellness means feeling good," he says. "Wellness is the lifestyle born 2,000 years ago in Italy during the Roman era. Mens sana in corpore sano. A healthy mind in a healthy body."
He practices what he preaches. His own home is dotted with workout machines, including one in the middle of his library. Technogym's Cesena campus, all curved roofs and wood interiors -- plus a small army of robotic lawn mowers -- is a cathedral to this vision.
It certainly stands out from the fields of peach trees and low-slung warehouses that mark the drive from Bologna. That's helpful because it's a marketing tool, too. More than 25,000 visitors pass through each year, touring the two-floor gym where 1,000 employees are encouraged to work out daily on its dozens of treadmills, stationary bikes and weight machines.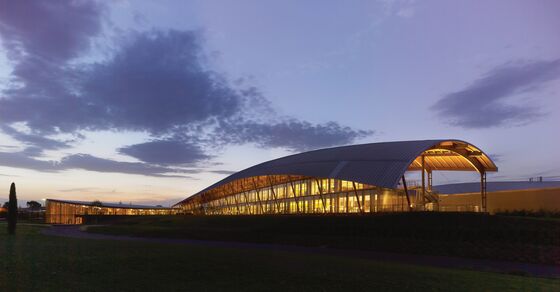 Technogym's glitzy store in central Milan features neon lights that spell out the company's "Let's Move For a Better World" slogan as bikes and treadmills dot two floors. The luxury stylings are well-suited to some of its prices. The polished steel Kinesis machine retails for 11,750 euros, and even the lower-end equipment can set you back four figures.
Yet demand is set to grow.
"It's a large industry and has seen a lot of growth but overall the category is still in its early days," said Imperial Capital's Wood. "Who the winners and losers will be from the next stage of growth is still up in the air."
Alessandri has a parent's expectations for Technogym's future.
"I have two children and Technogym is the third," he said. "The only things I want from my kids is health, growth and eternity."