Surging Food Prices Test Latin America's Top Central Banks
(Bloomberg) -- Inflation sped up more than forecast in Mexico and Brazil as unrelenting food price increases defy central bank plans to support virus-ravaged economies with low interest rates.
Mexico's consumer prices rose further above the official target range in October as fruit and vegetable costs soared, according to data published Monday, while food costs drove Brazil's fastest inflation rate for that month since 2002. Those trends may complicate a final rate cut in Mexico this week while prompting greater caution among Brazilian policy makers who are looking to avoid rate increases at all costs.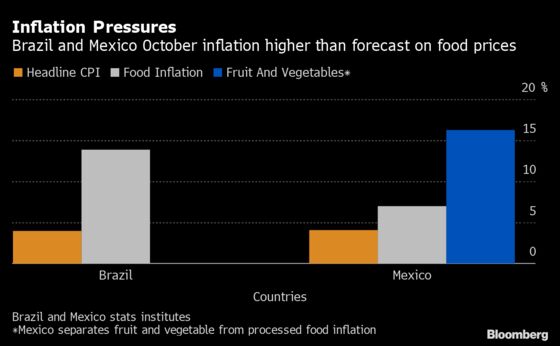 Latin America's largest economies have put monetary policy at the center of plans to return to revive growth following historic recessions. Both countries are still grappling with headwinds including weak labor markets and an uneven recovery. In Brazil, central bankers are standing by views that the food price surge is temporary, while Mexican officials have said space for additional easing is limited.
"We have seen inflation accelerate across the region mostly due to higher food prices," said Marco Oviedo, chief Latin America Economist for Barclays Capital Inc. "Although that could raise some concerns, we do not expect central banks to react immediately as the economies are still in a process of recovery."
In Mexico, food and vegetable prices spiked 16.2% in the past year, compared to headline inflation of 4.1%, according to the national statistics agency. In Brazil, prices of common goods such as rice and tomatoes posted double-digit price surges in October alone.
What Our Economist Says

"Results through October show food prices still rising across the region. Numbers also show increasing prices of tradable goods. The data point to lingering pressure from supply disruptions caused by the outbreak and lockdown measures. It is also consistent with domestic demand slowly recovering in line with fewer restrictions on households."

--Felipe Hernandez, Latin America economist, Bloomberg Economics

Read more here
To be sure, parts of Latin America were spared from the inflation pain. Colombia's consumer prices rose at the slowest pace in over six decades in October after a slump in demand, while Ecuador also posted deflation on the month.
"Despite recent upside surprises in CPI data we still find it unlikely that Latin America will see a sustained period of high inflation," Oxford Economics' chief Latin America economist Marcos Casarin wrote in a Nov. 6 research note. "Once the current food price shock fades, price setters will still face a tough environment in which to raise prices, as record-high unemployment will keep real wages depressed."
Still, there are signs that investors are wary of the inflationary pressures. Even though Mexico's economy is expected to contract nearly 10% this year, five of 20 analysts in a Bloomberg survey see policy makers halting their easing cycle this week with rates left at a four-year low. Calls of easing beyond this Thursday's meeting are few and far between.
"Negative supply shocks are winning the day over weak demand in Mexico and that limits room to cut," said Carlos Capistran, a New York-based economist with Bank of America Corp. "We expect Banxico to remain on hold this week."
Economists surveyed by Brazil's central bank have lifted their inflation forecasts for both this year and next for three straight weeks, according to weekly survey released on Monday. Interest rate futures show traders expect borrowing cost increases as soon as early 2021, also due to growing fiscal risks from a burst of government spending during the pandemic.
Elsewhere, Chile's inflation unexpectedly accelerated in October as the easing of virus lockdowns fueled demand and prices of items ranging from food to clothing. For the same month, Argentina will likely report the biggest jump in consumer prices since March in data to be released on Thursday, according to analysts in a Bloomberg survey.