Surging Chinese Tech Stocks Bring A-Shares Flavor to U.S. Shores
(Bloomberg) -- U.S. investors looking to get into the volatile Chinese stock market without the cross-border hassle can find a slice of the action in their own backyards.
A slew of Chinese technology companies listed in the U.S. via American Depositary Receipts, or ADRs, have taken shareholders on a roller-coaster ride in the past few days. They include Tencent Holdings Ltd.-backed NIO Inc., which began trading on the New York Stock Exchange on Wednesday, as well as Pinduoduo Inc., HUYA Inc., and 58.com Inc.
NIO, the electric car-maker that's accrued $1.6 billion in losses since the start of 2016, jumped 85 percent in two days after its $1 billion initial public offering. NIO Chief Financial Officer Louis Hsieh on Wednesday blamed the low initial price on bad timing, with recent losses in Asian markets making domestic investors "too jittery" to buy.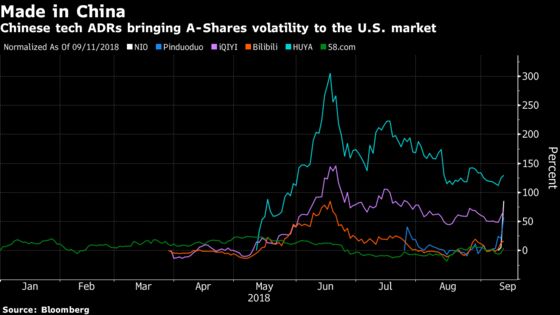 Just a day after the interview, NIO's shares surged 76 percent -- leading gains across other U.S.-listed Chinese tech companies. Pinduoduo, the e-commerce platform operator, jumped as much as 32 percent Thursday. The stock is up 58 percent since its July debut. ADRs from iQIYI Inc. jumped 6 percent on Thursday while 58.com closed up 9.3 percent.
The list might grow longer as Qutoutiao Inc. -- the Chinese news and video aggregation app that's also backed by Tencent -- is scheduled to begin trading after an expected IPO pricing this week in the $7 to $9 range.
"Shares are gaining likely because overnight gains in NIO shares rekindled investors' interest in new energy vehicles and the broad auto sector," said Tian Yang, Hong Kong-based analyst with China Securities International. "That has helped sentiment and we don't see any change in sector fundamentals."
The biggest China tech ADR of them all, however, has made little headway this year. Alibaba Group Holding Ltd. is down 4 percent in 2018, with Jack Ma detailing his plans this week to hand over his executive chairman role to CEO Daniel Zhang next year.