Superdry Plunges After Saying Profit Will Miss by Millions
(Bloomberg) -- Superdry Plc plunged after the U.K. apparel retailer said unseasonably hot weather will shave 10 million pounds ($13 million) off its 2019 profit.
As the summer's heat continued into the autumn in Europe and the eastern U.S., demand for Superdry's jackets and sweatshirts failed to materialize, the company said in a statement Monday. The retailer expects a further hit of about 8 million pounds because a currency hedging strategy did not provide the expected protection.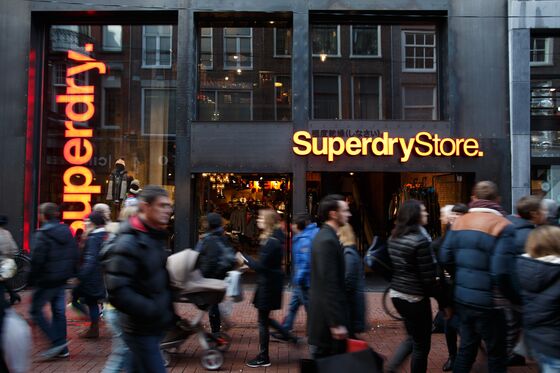 Superdry shares fell as much as 22 percent in London, touching the lowest level since 2015.
Superdry joins a growing list of European retailers, including the suit company Moss Bros Group Plc and online fashion vendor Zalando SE, that have said they suffered because of the heat this year. For bricks-and-mortar stores, the weather-related woes have compounded a retail crisis prompted by the shift to online shopping.
"We are not immune to the challenges presented by this extraordinary period of unseasonably hot weather," Chief Executive Officer Euan Sutherland said in the statement.
In the U.K., where the company does about 30 percent of its business, temperatures were actually below average in September, according to the Met Office. Warm weather persisted in key U.S. markets such as Boston and Chicago, according to the National Oceanic and Atmospheric Administration.
Superdry's warning suggests full-year consensus pretax profit estimates will be cut by about 25 percent, to 80 million to 85 million pounds, Berenberg analyst Michelle Wilson said in a note. The retailer will report first-half sales on Nov. 8.