Super Bowl Ad Sales Decline Along With TV Audience
(Bloomberg) -- Super Bowl advertising sales fell more than 6 percent, a sign the annual broadcast bonanza may be peaking along with its audience.
CBS Corp. collected $382 million in ad sales during the game, down from the $408 million NBC got last year and Fox's $419 million in 2017, according to estimates Monday from researcher Kantar Media. The viewing audience came in at 98.2 million, also down from last year and lowest since 2008.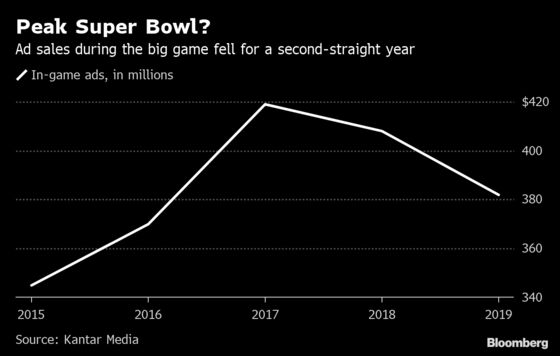 Hours before kickoff, CBS said the commercial airtime was sold out. The network was selling 30-second spots time for $5.1 million to $5.3 million, or roughly the same as NBC sought last year, according to people familiar with the matter. The New England Patriots beat the Los Angeles Rams 13-3 in a slow-moving, defensive struggle.
But CBS may have been able find extra airtime if advertisers wanted. Networks routinely hold back several minutes to promote their own shows.
According to Kantar, game advertising included 57 messages from paying customers, two from the National Football League and 32 promotional announcements from CBS itself for a grand total of 91 spots during the game. CBS said it got record signups to its All Access online service from the broadcast.
A network spokeswoman declined to comment further.