Swiss Sale Leaves Malone With More Cash for Next Europe Move
(Bloomberg) -- Billionaire John Malone's cable company Liberty Global Plc is selling its struggling Swiss unit to Sunrise Communications Group AG in a deal worth about 6.3 billion Swiss francs ($6.3 billion) including debt.
The sale comes as Malone reshapes his European interests, pulling out of Germany and much of Eastern Europe to focus more on the U.K., its biggest market, Ireland, Belgium and the Netherlands.
Liberty Global expects to earn $16 billion from deals announced or completed in the last 14 months and investors are keen to know if it will spend the money on acquisitions -- especially as the pending sale of the fast-growing German business has made it harder for the company to maintain the same growth profile.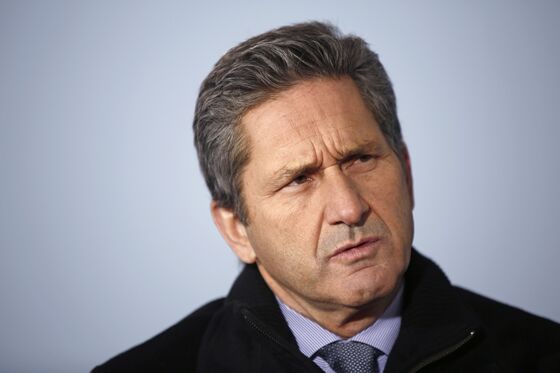 "Today's announcement further validates our strategy of building or enabling national champions in our core European markets," Liberty Global Chief Executive Officer Mike Fries said in a statement.
UPC Switzerland has been Liberty Global's worst-performing unit as it loses customers in an aggressive discounting war and a tie-up with Sunrise has long been discussed.
Sunrise shares slid 8.4 percent as of 4 p.m. in Zurich after the company said it would undertake a rights issue of 4.1 billion francs to raise cash for the deal and pay down some of its own debt. Liberty Global fell 1.2 percent to $25.94 in New York.
A lack of clarity on what Liberty Global will do with its swelling deal proceeds may weigh on investor sentiment, Bloomberg Intelligence analyst Erhan Gurses said in a note this week.
Fries said Liberty Global had begun a broader reorganization following the asset sales that would "result in a leaner operating structure."
A worsening performance by the company's continental European businesses last year has added to pressure on the London-based carrier to clarify its next move in the region.
Liberty Global sees operating cash flow flat or lower in 2019 excluding the Swiss business, partly because of the U.K.'s exit from the European Union, Chief Financial Officer Charles Bracken told analysts on a conference call.
"None of us know what that's going to mean to the economic environment and we want to make sure that our investors have a range of possibilities," he said.
Liberty Global said separately that its fourth-quarter operating cash flow grew 2.9 percent, trailing the 3.3 percent growth forecast by analysts. Revenue grew 1.2 percent, the company said.
The Swiss market has been a challenging one, with four major providers offering wireless, internet and TV. Buying customers out of their existing contracts and luring them with gifts is common practice among operators in the hyper-competitive market.
Liberty's turnaround plan for the business had hinged on overhauling management and rolling out a new set-top box. Liberty Global and Sunrise had previously held talks about forming a Swiss joint venture using a structure similar to the one Malone engineered between Liberty Global and Vodafone Group Plc in the Netherlands, people familiar with the matter said about a year ago.
In September, Fries said that Sunrise was a potential partner and also raised the possibility of an initial public offering for UPC.
Liberty Global expects to earn net proceeds of 2.6 billion Swiss francs from the sale, which it plans to use for general corporate purposes, according to a statement. The deal should close by the end of 2019.
Sunrise reported that fourth-quarter revenue rose 4.6 percent, in line with analyst forecasts.