Rishi Sunak Pours More Fuel On U.K.'s Scorching Housing Rally
(Bloomberg) -- Chancellor Rishi Sunak unveiled a fresh wave of support for home buyers across the U.K., adding further fuel to one of the economy's only bright spots during the pandemic.
The government postponed the deadline for a tax break on purchases for six months, and set out plans to enable buyers to put down a smaller deposit for their properties.
The tax perk, which was due to end this month and allowed buyers to save up to 15 thousand pounds ($21,000), juiced the market during the lockdown that devastated other parts of the economy.
Mortgage demand soared as buyers rushed to take advantage, and data this week showed annual home-price growth accelerated to almost 7% in February. But the extension merely staves off a cliff edge temporarily, and the market could suffer a setback once it ends.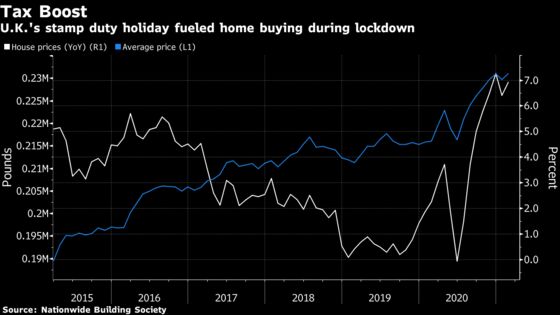 In his Budget on Wednesday, Sunak said the temporary level before so-called stamp duty kicks in will remain at 500,000 pounds ($698,000) until the end of June. It will then drop to 250,000 pounds before returning to its usual level of 125,000 pounds in October. U.K. homebuilders rose to session highs after the announcement.
The three-month extension of the full benefit is likely to mainly benefit people who are already in the process of buying a home, rather than opening up the possibility of savings to new buyers, said Aneisha Beveridge, head of research at Hamptons International.
"There is fairly limited time for it to make a difference for those not yet in the market," she said. Still, property website Rightmove Plc estimates that an additional 300,000 transactions in England could beat the deadline at the end of June.
Sunak also set out plans for government-backed mortgages that will allow house purchases of up to 600,000 pounds with only a 5% deposit.
Lenders pulled similar low-deposit products from the market last year -- only eight were available in January, according to the Treasury. Sunak said lenders including LLoyds Banking Group Plc, Natwest Group Plc, Banco Santander SA, Barclays Plc, and HSBC Holdings Plc will be offering the mortgages from next month, with Virgin Money UK Plc to follow "shortly after."