Sun Life CEO Says 296% Return Validates Course He Chose in 2011
(Bloomberg) -- Since Dean Connor became Sun Life Financial Inc.'s top executive, shareholders have quadrupled their money, outperforming almost every other North American life insurance firm. The secret: a decision to shun parts of the U.S. market.
The returns validate Sun Life's move to pull out of selling life insurance and annuities in the U.S. and focus on four "pillars," Connor said this week in an interview with Bloomberg. The four are its Asian unit, Canadian insurance and wealth, U.S. group benefits and global asset management.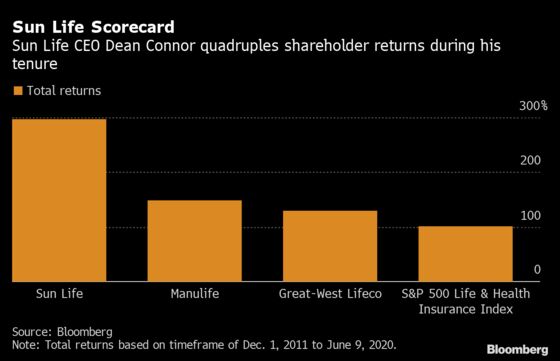 Sun Life returned 296% including dividends from December 2011 to present, double that of domestic rival Manulife Financial Corp. and more than three times that of Great-West Lifeco Inc. Sun Life has the second-best total return among members of a Bloomberg Intelligence index of North American life insurers, trailing only Primerica Inc.'s 492% gain.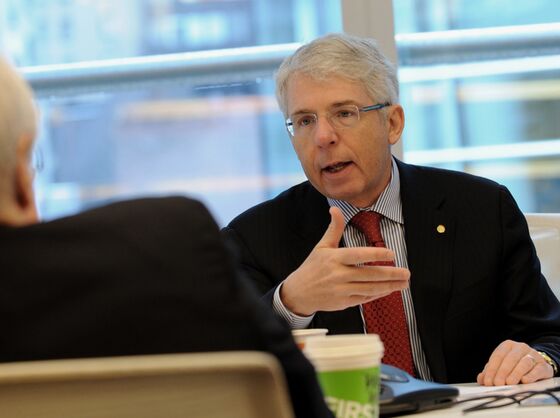 "This four-pillar strategy turns out to have been a good choice," Connor said Monday. "Deciding what sandbox you play in is the first, most important decision."
Getting out of life insurance and annuities in the U.S. was a good decision in hindsight, he said.
"There was no clear path to glory in terms of being a leader in those markets," Connor said, noting those products carried too much equity risk and interest-rate risk.
He also credits a focus on talent and culture as being the "most important aspects" of Sun Life's success, along with client focus and setting goals such as being one of the world's top insurance and asset management companies.
Despite his track record and near nine-year tenure, Connor isn't talking retirement yet.
"I'm having fun, we've got a great team," Connor, 63, said. "You'll have to stay tuned, but I'd say there's still a lot of wood to chop."