Sun Hung Kai's Rising Loan Cost Is a Bellwether in Hong Kong
(Bloomberg) -- Hong Kong real estate giant Sun Hung Kai Properties Ltd.'s syndicated-loan costs are rising after five years of decline, setting the stage for a rebound in local-currency borrowing expenses for other firms in the city.
The company is offering an interest margin of 75 basis points over the interbank rate, known as Hibor, for its five-year syndicated loan of HK$5 billion ($637 million), according to people familiar with the matter. The margin is 10 basis points higher than that of its similar facility last year, according to data compiled by Bloomberg.
A representative at Sun Hung Kai Properties said that the company is in the process of sounding out banks for a five-year syndicated loan but didn't provide details.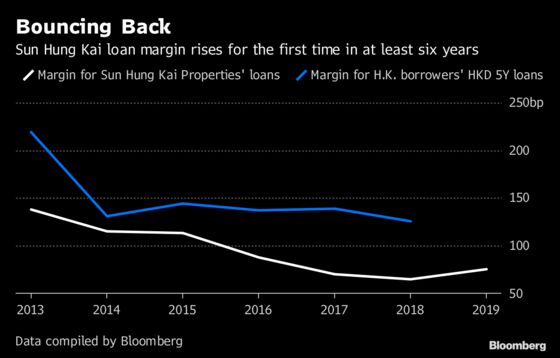 Bankers see this uptick as a sign that borrowing costs for Hong Kong firms may have bottomed. The average margin of Hong Kong dollar-denominated five-year syndicated loans slumped to 126 basis points last year, the lowest since 2011, according to data compiled by Bloomberg. Higher borrowing costs may add to developers' concerns amid price correction in the world's least affordable market. Real estate companies make up about 32 percent of the city's borrowers in the local currency.
"Lenders have been more reluctant to lend to low-pricing deals on the back of rising funding cost," said Kenny Chan, a Hong Kong-based head of syndicated finance and corporate advisory at Hang Seng Bank, adding that he expects high-grade firms to sweeten pricing at a moderate pace this year.
Hibor is seen rising to 2.6 percent by end of this quarter, according to the median survey estimate by Bloomberg last month. It's currently around 1.83 percent.
Chan sees blue-chip companies as well as second-tier local firms raising all-in costs, which include an annual interest rate and one-off handling fee, for syndicated loans by about 10-20 basis points this year.