Summer Vacation Is Over and Protest-Weary Chileans Are on Edge
(Bloomberg) -- Gianni Sichel has been busy, visiting customers in downtown Santiago to tell them that his recycling trucks will collect waste only before dawn in March. At that hour, they can best avoid roadblocks.
Bendito Residuo -- or "Holy Waste" -- is still reeling after student protests over a subway-fare increase last year metastasized into broader fury against Chile's income inequality and social injustice. Sichel's organic-waste recycling plant north of Santiago was firebombed in December, a casualty of an undifferentiated wave of violence against businesses. It took more than 20 firetrucks to control the blaze. Today, the plant operates at only 20% capacity.
"Four months ago, nobody knew what was going to happen," he said. "This time we don't want to be caught off guard."
Police have already identified 25 different calls for marches next month, according to reports in local newspapers, and Chile's business people, investors, government and political parties are bracing themselves for renewed protests after a southern-hemisphere summer lull. Chileans typically take vacations in January and February, government offices close, congress is out of session and campuses are largely empty.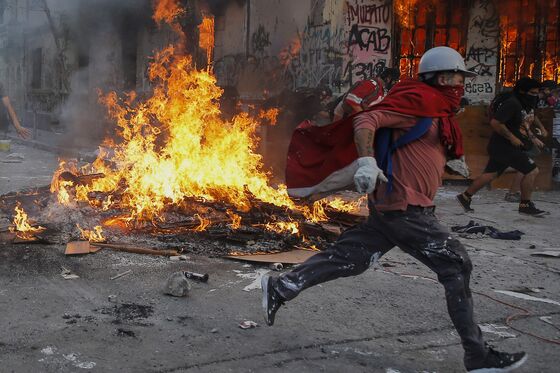 Since October, South America's richest country has been grappling with the biggest unrest since the dictatorship of Augusto Pinochet, which ended in 1990. Violent clashes between police and protesters left about 30 dead, at least 3,800 wounded and 20,000 arrested. The National Human Rights Institute received more than 1,800 accusations of abuse.
Students initially were enraged by the fare increase and argued that it was emblematic of a government that stifles its citizens while being hopelessly in thrall to business. They were joined in the streets by a broad swath of Chilean society. Amid plummeting popularity, the government promised reforms to pensions, health, taxes and a boost to wages. It also agreed on an April vote about replacing the Pinochet-era constitution with one that would make it easier to pass laws and reduce the power of the private sector.
But now students are returning to campuses, and the nation is waiting to see if the promised changes will keep the peace. Diego Diaz, a 21-year-old law student at the Universidad de Chile who joined protests from their beginning, said more demonstrations are inevitable.
"It is naive to believe that nothing will happen in March," he said. "It is evil and perverse to want everything to go back to normal."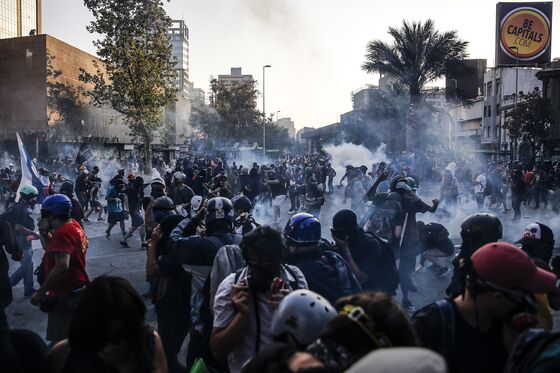 Gloria de la Fuente, political scientist and head of center-left think tank Fundacion Chile 21, said, "When people lose trust in institutions, as we have seen happen in Chile, violence appears as an alternative."
Whatever March brings, citizens are getting ready.
Christian Eblen, 30, owns a medical supply and clothing store four blocks from Plaza Italia, the square in Santiago where many protests have erupted. He is concerned about violence as March is typically his best month, when medical students begin a new academic year and need scrubs and surgical caps.
Eblen is trying to increase online sales, even offering free deliveries, in case he has to suddenly close his store. He also moved most of his merchandise far from the protests and bought fire and theft insurance. "My warehouse has better security, in case in there's an increase of looting," he said.
The government and security forces also are preparing. After officers fired rubber pellets straight at protesters last October, causing more than 400 eye wounds, the local police, called Carabineros, are retraining 2,600 members in protest-control methods and human rights. They're also acquiring new armored cars, drones and body cameras, as well as trying to improve their intelligence services.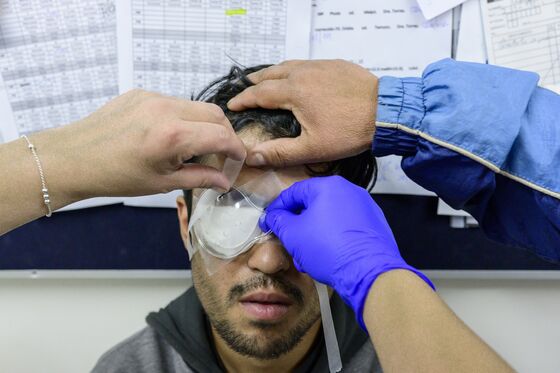 The government will respect human rights, spokeswoman Karla Rubilar said in a radio interview.
"We are working on better preparing our police forces on human-rights issues, something we know has been weak during the past months, but also on new mechanisms for preserving public order," she said.
"Citizens are concerned about March, and the government is preparing not only for March but for a year that is full of important milestones," Rubilar added.
Cristian Pertuze, a member of the governing council of the National Institute of Human Rights, said the public agency that defends citizens has been running special training and bringing in extra lawyers -- as well as gear of its own. "We are acquiring new equipment, such as safety helmets and gas masks, for our team that will be on the ground," he said.
Chile, a country of about 18 million, has been one of the region's fastest-growing for years. Yet many Chileans are deeply indebted, and the level of income inequality is one of the highest in the Organization for Economic Cooperation and Development, a club of 36, mostly rich, countries. Household debt is rising and the savings rate is falling, while unemployment and pension payments are at the low end of the scale among the world's wealthy nations.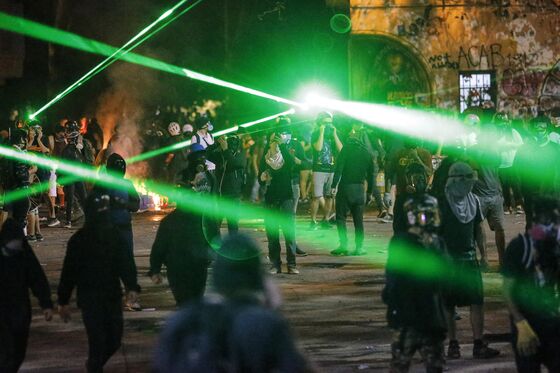 "If the government wants to avoid scenarios similar to those of last year, it will have to start changing the whole model," said Diaz, the law student.
The protests have depressed consumer and business confidence, stifled investment and sparked a selloff in local assets such as the Chilean peso. The currency has weakened about 10%, the worst performance of any in the emerging markets. The central bank and the government lowered growth estimates for the year.
Cesar Guajardo, 36, said the real-estate development company he heads, Morell & Cia., will have employees work remotely next month.
"Our operations have been severely affected," he said. "All of this has led to a lot of uncertainty for the investment groups that we sell our projects to. All of the projects have been delayed or even canceled. Some of our clients have even started to develop projects in other countries, such as Peru."
Guajardo said continued unrest and delays could force him to fire workers.
Some economists are more concerned by the protests than by the effects of the coronavirus outbreak on the price of copper, Chile's main export. "Local factors will have much more weight than what comes from abroad," Gonzalo Sanhueza, an economist at asset manager Econsult, said in an interview with Pauta Bloomberg radio.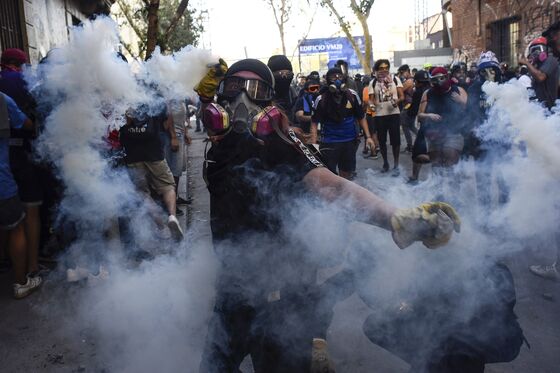 Investors are moving to reduce exposure to the peso, taking money out of local fixed-income funds to buy assets denominated in dollars, according to Jaime Achondo, head of trading at Fynsa, a brokerage and asset management firm.
The April vote offers an uncertain escape route.
Support for a new constitution actually has fallen from 78% on November 11 to 67% on February 7, according to pollster Cadem. The percentage of people in favor of continuing the protests fell to 56% in a separate Cadem poll published February 17, from 72% in October.
"The solution is to continue strengthening the institutional road to end the crisis and for that, the plebiscite will be key," said De la Fuente of Fundacion Chile 21. "The plebiscite will be the key to leave the crisis behind."
Guajardo said that even if the measure is approved, that may not be enough.
"It will be two more years of uncertainty during the drafting of the new constitution, especially regarding property rights," he said. "And if rejection wins, then those who are protesting will surely protest even more."