Sum of All U.S. Credit Fears Sinks to Almost Five-Year Low
(Bloomberg) -- That sound you've been hearing is U.S. credit investors breathing a large sigh of relief.
The sum of all fears among those buying investment-grade and high-yield debt has sunk to its lowest level since 2014, according to Bank of America's March survey of fund managers -- even as the Federal Reserve Bank of Dallas warns about poor liquidity and the Bank for International Settlements frets about damaging downgrades.
"The most notable change in our fresh survey of U.S. credit investors is that most concerns have declined notably from December and January,'' write analysts led by Hans Mikkelsen, head of U.S. high grade strategy.
Respondents to BofA's survey aren't sounding as much alarm on most potential major market flash points, including a slowing Chinese economy, a trade war between the world's two largest economies, and lingering domestic U.S. policy disputes that triggered a partial government shutdown.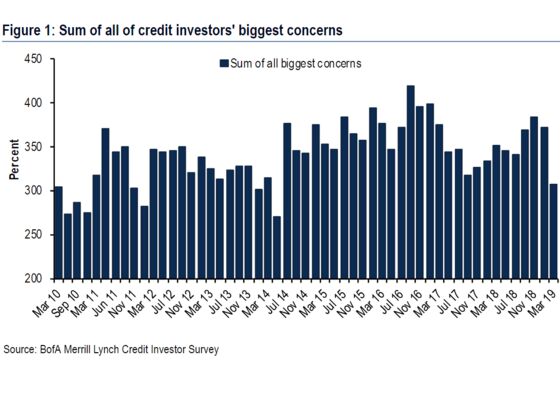 Price has helped change mood: The rebound in U.S. corporates has seen investment-grade debt deliver portfolio gains of 3.1 percent in 2019 while junk bonds return 5.8 percent even following their longest losing streak since December.
Sanguine fund managers are thus maintaining "moderate" and "small" overweight positions in investment-grade and high-yield debt, respectively, according to BofA. Even as those surveyed say credit is rich -- with a spike in the share saying that investment-grade spreads in particular are too tight -- they expect continued compression over the next three months.
Yet in one year's time, more than 70 percent expect high-grade and junk spreads to widen from current levels.
"There was a striking decline in the proportion of investors expecting deteriorating fundamentals compared with two months ago," writes Mikkelsen. "This as high grade investors are experiencing stronger inflows (but less than we would have expected), while their high yield counterparts have reverted to small inflows from record outflows."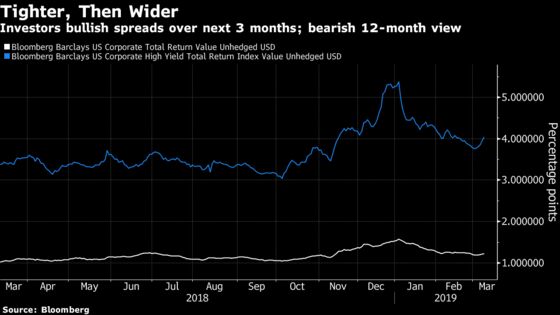 This sunny shift has the Fed's fingerprints on it. The central bank's dovish pivot has served to depress interest-rate risk and benefit the fixed-income universe. Rising interest rates are now deemed the ninth-highest risk to the asset class after having been the chief concern four months ago.
Moreover, a less-aggressive approach to tightening reduces the odds of a policy mistake that brings about a recession -- something credit investors never really bought into anyway, concludes Mikkelsen.