Suez Canal Blockage Forces LNG Suppliers to Shift Trade Flows
There may only be one liquefied natural gas tanker stuck inside the Suez Canal behind the marooned Ever Given, but there are already signs the blockage is beginning to disrupt global LNG flows.
The Golar Tundra, which loaded the gas in Egypt, was scheduled to arrive in Pakistan by the end of the month until the hold-up in the canal, according to traders with knowledge of the matter. The South Asian nation is now in discussions with its supplier about finding an alternative cargo, they said.
Apart from the Golar Tundra, there are seven LNG tankers near the entrances to the canal, according to ship-tracking data compiled by Bloomberg. Around 8% of the global supply of the fuel passes through the vital waterway, and the only other option is a trip around Africa that could add weeks to the journey.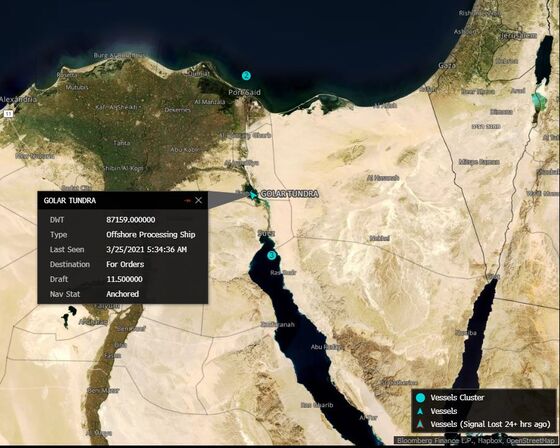 "Suez Canal blockage is the biggest risk for the gas markets right now," said Niek van Kouteren, a senior trader at Dutch energy company PZEM NV. "If it is not solved soon, it will certainly keep driving prices higher."
At least one shipment of LNG from the U.S. may have diverted course toward the Cape of Good Hope and away from Suez, Lucas Schmitt, an analyst at Wood Mackenzie Ltd. said in a note on Thursday.
Of the five LNG vessels awaiting entry in the canal, three are Europe-bound and two are for Asia, ship-tracking data on Bloomberg show. That's unchanged from Wednesday, but at least two more Qatari vessels are on their way in the Arabian Sea.
Still, most traders are betting that the issue will be resolved within a few days, and delays have had only a minimal impact on prices. While the closure could postpone shipments and curb some supply, end-users are sitting on enough inventories to be able to weather a short-term disruption. And a shift to milder spring temperatures in Europe and Asia means heating demand has ebbed.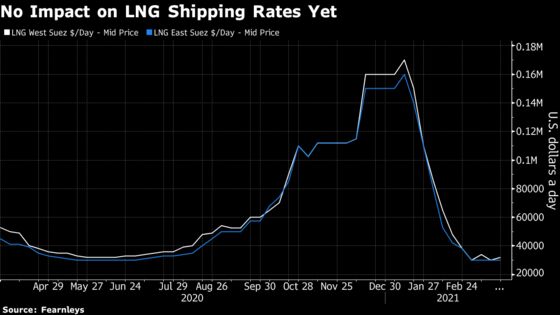 The Suez Canal's share in global LNG trade has slipped to about 5% to 7% now from more than 10% recently when the market was hit by supply disruptions and strong winter demand in the East, as well as wait times at the Panama Canal, said Gonzalo De Arteaga, head of LNG market intelligence at Fearnleys A/S. The shipbroker does not see immediate impact on freight costs.
"If a solution takes some more days we could see an effect in spot rates lasting a couple of weeks," he said by email. "Increasing delays and taking alternative routes will increased shipping demand."