Sudanese Take to Streets Again in Rebuff to Al-Bashir Pledge
(Bloomberg) -- Sudanese protesters took to the streets of the capital Thursday, hours after long-time President Omar al-Bashir vowed to review some policies in response to almost two months of unrest.
Security forces fired tear gas at demonstrators trying to march on the presidential palace in downtown Khartoum, eyewitness Ahmed Nasr said by phone. Combined with protests in some residential districts, it was the most significant unrest in the capital for more than a week.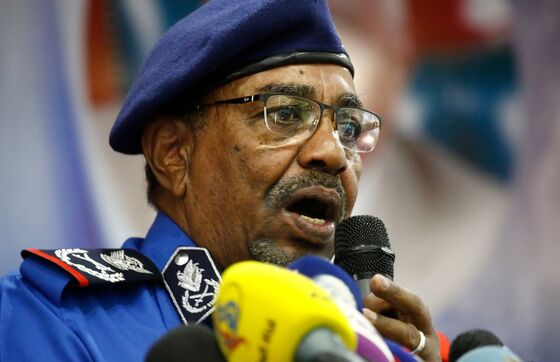 Al-Bashir on Wednesday told a meeting of senior Sudanese journalists that his government will review a contentious public order law and military service as well as increase financial grants for youth programs.
The "youth has grown up at a time when we had large oil revenues, so they've been deeply shocked by the current economic situation," BBC Arabic quoted him as saying. After South Sudan seceded in 2011, Sudan lost three-quarters of the united country's oil reserves.
Unrest in the North African nation that began in mid-December in response to soaring living costs has posed one of the biggest challenges to al-Bashir, 75, since he seized power in a 1989 Islamist-backed coup. Sudan authorities say at least 30 people have been killed; Amnesty International, accusing security forces of a "deadly onslaught," has put the toll at more than 40.
Among those killed was a teacher, who was tortured to death while in custody, Aamir Mohamed Ibrahim, chairman of a state-run investigation committee, said on Thursday.
While al-Bashir pledged to free all media workers in detention, the Sudanese Journalists Network, a local advocacy group, said Thursday that 15 remain in custody.