Subscription Models Are Keeping Flower Delivery Services Afloat
(Bloomberg) -- Flower services were especially hard hit during the pandemic, losing revenue when weddings and large events disappeared and hotels were forced to shut down. But many have been buoyed by the subscription model, which became increasingly popular among those looking for a way to maintain some semblance of a routine.
There's no sign of such services slowing down as Mother's Day approaches. Steven Dyme, co-founder and chief executive officer of Flowers for Dreams, a delivery service based in the Midwest, says subscriptions as Mother's Day gifts are up four times last year's amount. "Our subscriptions exploded," he says. "With people being home and their offices becoming home offices, they invested in plants and florals to liven up the space."
Subscriptions became a popular option for those who weren't able to gather in person, too. "People have really used flowers as a way to reach out to those who they can't go and visit," says Emily Mathison, creative director of McQueens Flowers in New York. She says the company saw an increase in such messages as "Thinking of you" being included with flowers. 
Peonies, a usual favorite, have been exceptionally successful this year, as have dried bouquets. Eliza Blank, founder and CEO of the Sill, thoerizes that's it because of their low maintenance. "They're an easy and sustainable way to bring natural colors and textures to your living or working space," she says.
Here are nine subscriptions to consider for Mother's Day this year—even if you plan to be there in person this time.
Flowers for Dreams
This Midwestern company, with locations in Chicago, Detroit, and Milwaukee, donates 25% of its net profit through its namesake foundation—it split $135,000 among 12 charities last year. Choose from its two subscriptions models: The Artisan package arrives hand-tied and already assembled in a vase; the Do-It-Yourself comes with a selection of blooms and a short instructional video that shows you how to arrange it on your own. From $40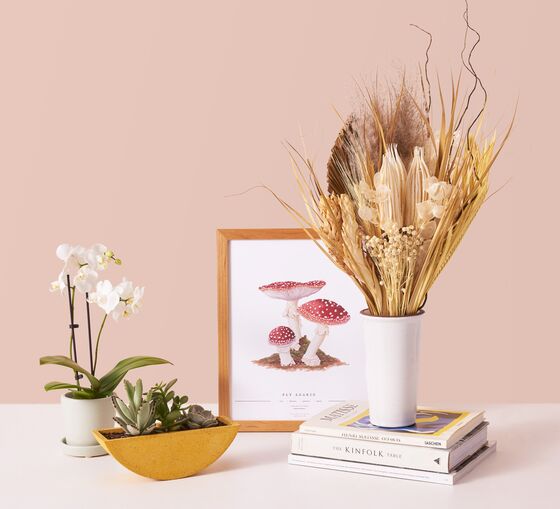 The Sill
As the number of plant parents skyrocketed during the pandemic, the Sill's plant subscription boxes took off, too. It even offers a pet-friendly option, which includes nontoxic options in case a pet ingests it. CEO Eliza Blank says dry bouquets, like the Neutral Palm Bouquet, and stem bundles are extra popular this year since they require "almost zero maintenance." From $60
McQueens Flowers
Famous for its displays in Claridge's, Christie's, and the Vanity Fair Oscar party, the London-based brand opened a New York branch last March—just in time for lockdown. It made up for a lost event season in 2020 by offering delivery, including a weekly option, and virtual flower arranging classes. Its best-selling bouquet, the Gaia, includes peonies, garden roses, lilacs, and jasmine. Monthly subscriptions are available in 3-, 6-, or 12-month increments. From $525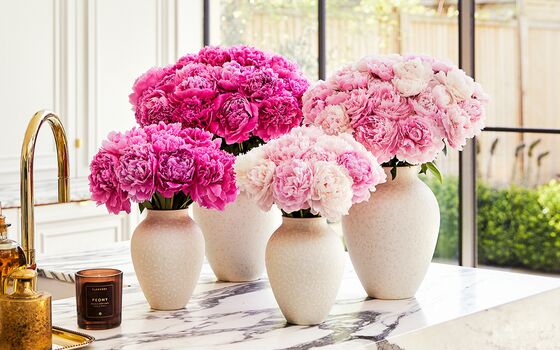 FlowerBX
This strictly digital shop prides itself on getting flowers straight from the growers so that they stay fresh longer. FlowerBX ships in the U.S., the U.K., and the European Union. You can get individual flowers, such as tulips and roses and peonies, in luxury vases, and even candles, all from the same place. It offers weekly, biweekly, and monthly flower subscription options. From $70
Brooklyn Blooms
This Black-owned, Brooklyn-based flower shop offers subscriptions by request, for a period of 3, 6, or 12 months. Premade arrangements include fun arrangements with names like Sweet and Petite or Lush and Large. The company even offers a hairpiece, called the Crown Her. From $195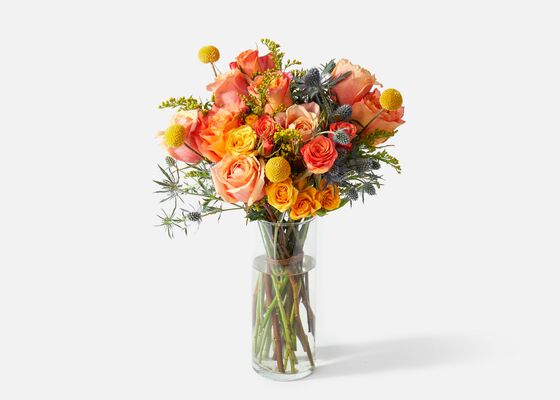 UrbanStems
Offering same-day delivery in New York City and D.C. and next-day delivery all over the country, UrbanStems offers intriguing arrangements such as the Unicorn, which holds a mix of purple, lilac, and pink blossoms, and the Canary, an uplifting collection of roses, freesia, and ranunculus. The company also offer unique vase designs like the Cathy, which is painted with a woman's face, and the Rex, a dinosaur-themed one. For every plan ordered between now and May 9, $15 will be donated to Baby2Baby, a nonprofit organization for children living in poverty. From $55
The Bouqs Co.
Fans of puns will take to arrangements such as Mom-osa, which consists of yellow lilies, snapdragons, and solomio, and Love You a Latte, full of white mums, peach roses, and berries. The company likes to keep flowers fun and simple, and its three-tiered subscription options offer fresh flowers at a range of discounted prices. From $36

H. Bloom
Founded in 2010, H. Bloom has quickly garnered a national reputation. Its best-selling arrangement, Pink Berry, includes hydrangeas, roses, and berries. It has two options for home subscriptions—a seasonal mix of fresh blooms and an all-white arrangement—but packages are customizable and available for weekly, biweekly, or monthly delivery at 3-, 6-, 9-, or 12-month periods. From $75
Fox Fodder Farm
Based in Brooklyn, this flower shop delivers and supplies flowers locally, works only with sustainable suppliers, and is a foam-free studio. It offers single flower bouquets like orchids and peonies as well as arrangements that can be sent with other fresh-smelling things—oils, soap—in tow. From $85