Sub-$2 Gasoline Pops Up in 20 U.S. States After Oil's Drop
(Bloomberg) -- Sub-$2 gasoline can now be found in at least one gas station in 20 U.S. states, as the effects of the bear market in crude oil trickle down to motorists.
The lowest per-gallon retail price, $1.69, was found at a Buc-ee's station in Denton, Texas, according to GasBuddy, a company that helps drivers find cheap fuel. The national average has fallen for seven straight weeks to $2.53 a gallon, the lowest since March.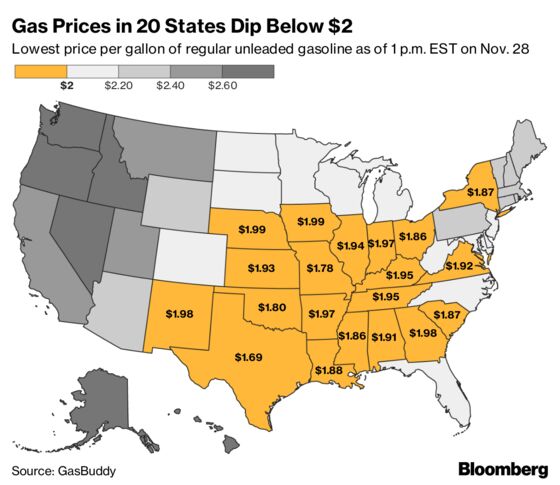 The plunge in gasoline comes after crude futures fell by a third from an October high. Global oil has wilted following Iranian sanction waivers from the U.S. and as rising output in America, Saudi Arabia and Russia raises concerns about a glut. Trade tensions between the U.S. and China have also stoked fears about demand.
"There's generally a multi-day lag in gas prices following the daily changes in the price of oil," Patrick DeHaan, head of petroleum analysis for GasBuddy, said Wednesday in an interview. The Great Lakes is currently the cheapest region in the country after refineries there restarted after scheduled maintenance, he added.
Lower prices will likely save the country $125 million a day compared with what was being paid in early October, DeHaan was quoted saying in a blog post Monday.