Storm Threats Loom Across Atlantic From Gulf of Mexico to Africa
(Bloomberg) -- While a tropical storm approaches Bermuda, the threat of more powerful systems is expanding across the Atlantic, from the Gulf of Mexico to Africa.

Tropical Storm Paulette probably will become a hurricane on Sept. 13 as it nears Bermuda, possibly making landfall early next week. Two more storms may develop in the Gulf of Mexico within 48 hours with another pair off Africa. In addition, Tropical Storm Rene is in the deep Atlantic and isn't posing a threat.

"The map is starting to light up like a Christmas tree," said Rob Miller, a meteorologist at AccuWeather Inc. "By the time we get to Monday or Tuesday, there could be three to five, maybe six, systems that could have designations from the National Hurricane Center."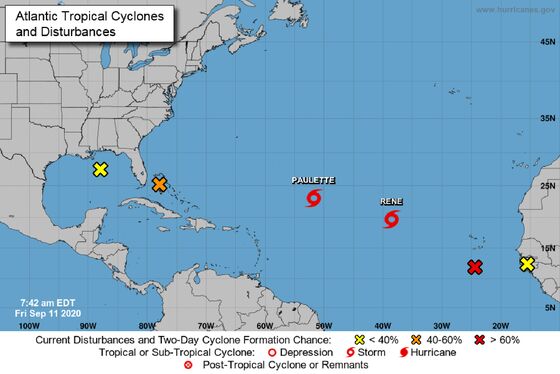 Across the Atlantic, 17 storms have formed this season, marking the fastest pace in records starting in 1851, and seven hit the U.S. Hurricane Isaias knocked out power to millions in the Northeast, and Laura tore up southern Louisiana. The National Hurricane Center has only four names left -- Sally, Teddy, Vicky and Wilfred -- before Greek letters are used to designate systems.

The most immediate threat is Paulette, which may reach Bermuda as a Category 1 or 2 hurricane by Sept. 14, Miller said. "They are built to sustain that, but a hurricane is a hurricane."

Across the Bahamas, a patch of thunderstorms is forecast to drift over Florida, bringing rain before they possibly merge into a tropical depression or storm and head toward Louisiana, "which seems to be a magnet for tropical systems this season," Miller said. Even weak storms can cause disruption to offshore oil and natural gas production.

A second system in the Gulf has a 30% chance of becoming a tropical threat. That may bring rain across Texas and northern Mexico.

A pair of waves has emerged off Africa that have a greater chance of becoming named. They are still more than a week away from becoming major threats to the Caribbean islands and beyond.
Forecasters are also watching a mass of thunderstorms east of Japan that may become a tropical storm or typhoon in days.