Tropical Storm Epsilon Forecast to Menace Bermuda Later in Week
(Bloomberg) -- Tropical Storm Epsilon has formed in the central Atlantic and will move northwest, probably growing into a hurricane as it nears Bermuda late this week.
Epsilon's winds have reached 40 miles (64 kilometers) per hour southeast of Bermuda, the U.S. National Hurricane Center said. It is the Atlantic's 26th named storm this year, the second most in records going back to 1851.
"Gradual strengthening is forecast during the next 72 hours," the center said in an 11 a.m. New York time advisory.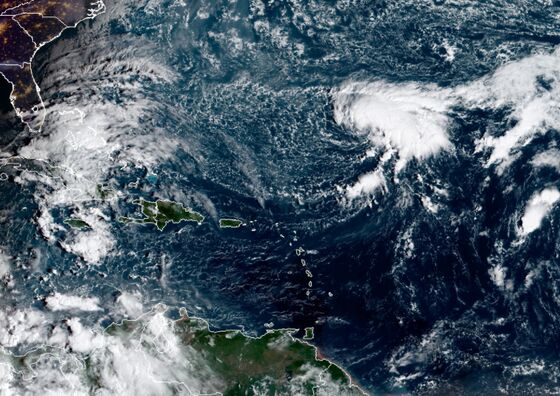 An all-time high of 10 storms have hit the contiguous U.S. this year, including Hurricanes Isaias, Laura, Sally and Delta, which have combined to cause billions of dollars in losses and damage. The six-month hurricane season will officially end on November 30, but storms may continue to form even after that date.
The system near Bermuda won't be a threat to U.S. offshore oil and natural gas production in the Gulf of Mexico.
So many storms have formed this year that the hurricane center has used up all the names on the official list and has begun using Greek letters to designate new systems. In addition to the depression near Bermuda, the center is also watching a second potential storm off the coast of Central America.
In 2005, a record 28 storms formed across the Atlantic basin, including Hurricane Katrina, which devastated New Orleans.